HDI 109 Advanced 3D Scanner
LMI Technologies Unveils HDI 109 3D Scanning System for Integrated or Embedded Applications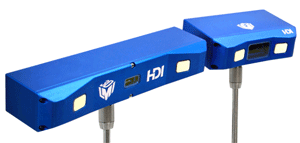 LMI Technologies (LMI), a leading developer of 3D scanning and inspection technologies, today announces the official release of the HDI 109 3D Scanner. It is the latest addition to the HDI 100 series of compact, pre-calibrated 3D scanners manufactured by LMI. The scanner has the ability to scan small parts at a high level of accuracy. The HDI 109 is an automatable turnkey solution that delivers a seamless 3D scanning experience from acquisition to post-processing of scans into a full digital 3D model.
With a solid aluminum body that is dust proof and water resistant (IP67 housing), the HDI 109 measures only 49 x 100 x 155 mm to become the smallest advanced 3D scanning system using blue LED projection technology. The scanner's compact design and portability makes it suitable for fitting into confined spaces, perfect for integrating or embedding the scanner into machines or devices.
"HDI 109 3D Scanner was developed specifically for companies that are looking to design their own systems or devices and require integrated or embedded 3D scanning capability for scanning small parts", said Chi Ho Ng, Product Group Manager of LMI Technologies. "By leaving the scanning to the HDI 109, companies can save valuable R&D development resources and budget so they can focus on their core developmental strengths instead of developing the 3D scanning technology internally. This substantially minimizes time-to-market so products can reach the market at a faster pace."
The HDI 109 is ideal for systems integrators or device manufacturers who need 3D measurement, visualization or inspection of small parts for medical, dental, or manufacturing applications. The system is pre-calibrated and integration ready to produce repeatable scanning results. The simple-to-use software development kit (SDK) and connectivity options give developers complete control over all aspects of the 3D modeling process—from capture to alignment to the final model. The scanners can output into a variety of output formats (PLY, OBJ, STL, ASC, FBX) to accommodate different systems with ease.
The HDI 109 is available for order today. For more information on the 3D scanner, please visit www.lmi3d.com.
About LMI Technologies
At LMI Technologies, we are passionate about developing 3D scanning and inspection technologies that solve complex problems in a simple way. We take our knowledge and experience from working over 35 years in the field and connect our customers to 3D solutions that enable them to achieve better business results. We build our products from the chip level up: from concept, design, to manufacturing. With offices worldwide, we are committed to delivering the best 3D sensors, 3D smart sensors, and 3D scanners for your application.


Embedded Vision
This content is part of the Embedded Vision curated collection. To learn more about Embedded Vision,
click here
.