Haydon Kerk Motion Solutions Adds New WGS Compact Integrated Screw/Slide System to 24-Hour Express Store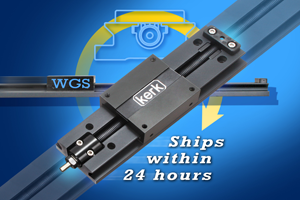 WATERBURY, CT - Haydon Kerk Motion Solutions recently added the WGS Wide Guide Screw to its linear slide product line. Now, the WGS can be ordered from the Haydon Kerk e-commerce website with orders shipped within 24 hours. Made from the same quality components as used in the RGS® Linear Rail Series, the WGS Linear Slide utilizes a screw-driven carriage that offers reliable, continuous linear speed, while maintaining accurate positioning. Length and speed of the WGS are not limited by critical screw speed, allowing high RPM, linear speed and long stroke lengths.
The WGS slide has a unique, compact profile that provides improved torsional stiffness and stability versus Haydon Kerk's existing RGS and RGW slide products. Stroke options of 6", 12" and 18" are available in three different leads (0.1", 0.5" and 1.0") for 24-hour delivery at the Haydon Kerk e-commerce store. Each WGS Slide ships with a size 17 and a size 23 motor mount.
Information on other available imperial and metric leads is available at Haydon Kerk's website. These include short leads for non-backdriving vertical applications, eliminating the need for brakes, as well as longer leads capable of speeds of more than 60 inches per second (1.5 meters per second) that rival belts and cables, while offering superior positioning accuracy, repeatability, axial stiffness and lower maintenance costs. Longer lengths and different leads are available on a special order basis. An integral mounting base can provide support over the entire length that can extend up to 8 feet (2.4 meters).
The WGS utilizes sliding plane bearings on a low-profile aluminum guide rail that keeps the motion smooth throughout the travel distance. The lead-screw is precision made of high-quality stainless steel rolled on site at a Haydon Kerk manufacturing facility. All moving surfaces include Kerkite® high-performance polymers running on a Kerkote® TFE coating. The slides come with wear-compensating, anti-backlash driven carriages. Additional driven or passive carriages can be added, along with application-specific customization. Linear guides without the drive screw also are available.
About Haydon Kerk Motion Solutions, Inc.
Haydon Kerk Motion Solutions is a business unit of AMETEK, Inc., a leading global manufacturer of electronic instruments and electromechanical devices with annual sales of $4.0 billion.
Haydon Kerk Motion Solutions is the joining of two world-class brands in the field of linear motion: Haydon Switch and Instrument, Inc. and Kerk Motion Products, Inc. Together as Haydon Kerk Motion Solutions, they offer a wide range of high-performance and precision linear motion products.
Recognized as a leading manufacturer of stepper motor-based linear actuators, rotary motors, lead screw assemblies, and linear rail and guide systems used in niche market applications, Haydon Kerk Motion Solutions has developed industry-renowned brands built upon its technical innovation, versatility, customization, product durability, and dedicated customer service.
Company Contact
Marcia Colucci
Tel: 203-756-7441 ext. 255