Harness the Power of Big Data with B&R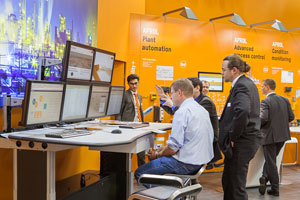 ACHEMA: APROL simplifies process optimization
Turn big data into big improvements in your production processes – B&R will show you how at ACHEMA from June 15-19 in Frankfurt. At Booth A63 in Hall 11.1, B&R will be presenting Advanced Process Control and many other new features of its APROL process control system, as well as ready-to-use solutions for process data acquisition, energy monitoring and condition monitoring. With APROL, even small and midsized companies can quickly boost productivity and minimize maintenance costs.
Solutions such as line monitoring and track-and-trace are simple to implement with the APROL family of products. A new APROL function for control performance monitoring, for example, gives plant operators 29 different parameters for a perfect overview of individual machines and lines or even entire plants.
Easy integration with PackML
PackML's machine data interface makes it even easier to integrate machines into APROL for monitoring and management tasks. The standard library contains control modules for machines and lines that provide con-venient access to relevant details.
Integrated business intelligence
Further adding to the optimum overview, APROL's comprehensive business intelligence suite collects, pro-cesses and analyzes all of the data generated by a networked factory. Interactive and adaptable dashboards, graphs and reports provide flexible viewing options – including support for mobile devices – and place the power of intelligently harnessed big data conveniently at your fingertips.
About B&R
As a global leader in industrial automation, B&R combines state-of-the-art technology with advanced engineering to provide customers in virtually every industry with complete solutions for machine and process automation, motion control, HMI and integrated safety technology. With industrial fieldbus communication standards like POWERLINK and openSAFETY as well as the powerful Automation Studio software development environment, B&R is constantly redefining the future of automation engineering.
B&R Industrial Automation, Inc. North America, based in Atlanta, GA, has been working closely with its customers since 1987. Since then, B&R North America has continuously grown as a sales and support organization through both direct sales offices and B&R's unique Automation Partner distribution network. Today, B&R North America has a network of more than 25 offices throughout the USA and Canada and is there for its customers locally.
Company Contact
Yvonne Eich - Marketing Communications Manager
Tel: +1 (770) 772-0400