Hard Real-time Now Also for Windows 8.1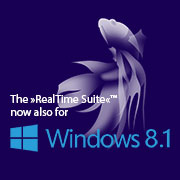 All kinds of software components are unthinkable without regular adjustments. We, as software developers, always strive to stay up-to-date with the latest innovation, as this is essentially for a sophisticated and reliable software.

Thus we are glad to announce supporting the latest version Windows 8.1 by the »RealTime Suite«™.

As a result, our customers are more flexible with the version updates of the used operating system. It requires no extra time and effort and is automatically included in the current version 9.43!