HALCON with Microsoft Kinect for 3D Vision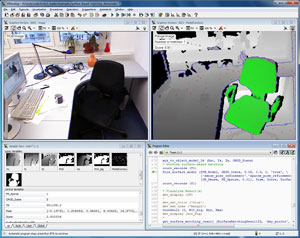 MVTec Software GmbH, Munich (Germany) has initially tested the Microsoft Kinect camera with their machine vision software HALCON 10. This integration brings new low cost options to the machine vision market.
The Microsoft Kinect camera is an ultra-low cost vision sensor originally developed for the Microsoft Xbox 360. It combines an RGB camera (1280x1024/15fps or 640x480/30fps) with an infrared structured light depth sensor (640x480/30fps).
As Dr. Markus Ulrich, manager of research & development at MVTec, explains, due to the hardware independence of HALCON it was very easy to connect the Kinect sensor to HALCON: "We implemented a simple HALCON interface making use of the current beta version of Kinect's open source driver. On the basis of HALCON's standard calibration techniques, we transformed the depth image into metrical X, Y, and Z data without any problems."
After this step, the whole functionality of the HALCON library is ready to be applied, especially operators for 3D vision like the surface-based 3D matching.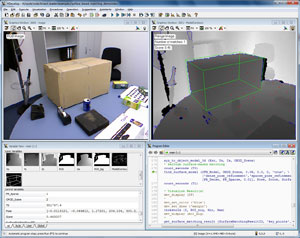 The Kinect sensor is certainly an interesting entry into the world of 3D vision. By combining HALCON and Kinect, new and creative 3D applications can be developed, e.g., for bin picking, packaging, or palletizing. With this option, 3D applications with low cost 3D sensors especially for large scaled objects are possible, also for research and development.
About HALCON
HALCON is the comprehensive standard software for machine vision with an integrated development environment (IDE) that is used worldwide. It leads to cost savings and improved time to market: HALCON's flexible architecture facilitates rapid development of machine vision, medical imaging, and image analysis applications. HALCON provides outstanding performance and a comprehensive support of multi-core platforms, MMX and SSE2, as well as GPU acceleration. It serves all industries with a library of more than 1600 operators for blob analysis, morphology, matching, measuring, identification, and 3D vision, to name just a few. HALCON secures your investment by supporting a wide range of operating systems and providing interfaces to hundreds of industrial cameras and frame grabbers, including GenICam, GigE Vision, and IIDC 1394.