HALCON Embedded and mvBlueLYNX-X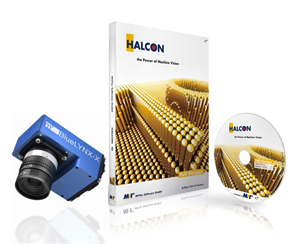 MVTec and MATRIX VISION open up new possibilities: HALCON Embedded combined with the smart camera mvBlueLYNX-X provides an intelligent, reliable, and flexible machine vision system.
HALCON is the comprehensive standard software with an integrated development environment (IDE) for machine vision which is used worldwide. Its flexible software architecture enables a fast application development for machine vision and medical image processing.
For optimal integration in the mvBlueLYNX-X from MATRIX VISION, MVTec has now ported the entire software library of HALCON 10. As a special feature of the mvBlueLYNX-X HALCON Embedded port, MVTec also provides the HALCON/.NET language interface under Linux (via "Mono") for the first time on a HALCON Embedded platform.
Applications can be developed on the smart camera as well as on a standard PC. In both cases, the complete functionality of HALCON's machine vision software library is available.
The use of smart cameras is widespread for quality control and process monitoring in industrial production: smart cameras as the mvBlueLYNX-X from MATRIX VISION provide adequate computing power and come with direct communication interfaces. The combination of robust hardware and HALCON as universal and reliable software forms a powerful all-around package for modern machine vision.

More information: www.halcon-embedded.com
Embedded Vision
This content is part of the Embedded Vision curated collection. To learn more about Embedded Vision,
click here
.