HALCON 11 Supports Various 3D Sensors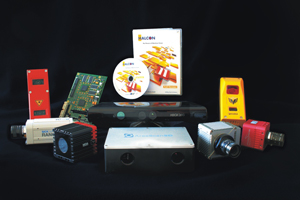 The standard software for machine vision, HALCON 11 from MVTec, supports different forms of 3D sensors for 3D vision purposes. HALCON offers a wide range of interfaces to the devices of many well?known manufacturers.
3D sensors use different technologies. For uncalibrated laser triangulation, HALCON supports any area scan camera with an external laser, also in combination with the dedicated preprocessing board microEnable IV-V with the 3D SmartApplet from Silicon Software. Furthermore, HALCON supports specific 3D cameras with onboard profile measurement capability as there are SICK Ranger and Color Ranger, Automation Technology C4, and Photonfocus 3D cameras.
For calibrated laser triangulation, HALCON supports the SICK Ruler E, Leuze LPS36, LMI Technologies Gocator, Micro Epsilon scanCONTROL, Vision Components nano 3D, and upcoming laser sensors from Pepperl+Fuchs and SmartRay. For fringe projection, HALCON supports VRmagic AreaScan3D, and Shape Drive SD?1 is projected. For Time?of?Flight technology, HALCON supports the MESA Imaging SR4000 and, as a special case, the Microsoft Kinect and the ASUS Xtion PRO sensors which work with structured light.
For years, HALCON has offered all necessary 3D vision and robot vision technologies currently used by the industry. With the release of HALCON 11 in early summer, 2012, those 3D technologies were considerably extended and improved.
The addition of new technologies like 3D registration or 3D surface comparison, the improved 3D visualization, as well as the extended 3D object processing further expand the palette of available 3D vision tools and strengthen HALCON?s unique 3D technology offerings.