Güdel Introduces TMF-6 TrackMotion Floor for FANUC M2000iA Robot Family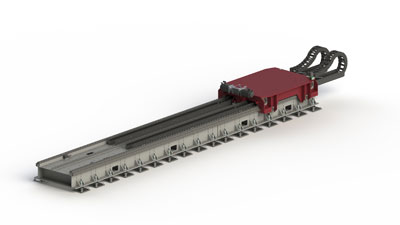 ANN ARBOR, MICHIGAN - Güdel, a global manufacturer of linear motion modules, robot track motion units and gantry robots and components, is pleased to announce the market introduction of the new second-generation TMF-6 TrackMotion Floor for the expanding class of super-heavy-payload robots.
The newly introduced Güdel TMF-6 floor-mounted linear motion module has the capacity to carry robots with total dynamic load of up to 13,300 kg. This TMF-6 module is also capable of carrying static payloads up to 20,000 kg per carriage. Currently, the FANUC M-2000iA series of robots includes four models with payload capabilities ranging from 900 to 2300 kg. Güdel's TMF-5 model is used for smaller super-heavy robots currently on the market.
"Key integrators and end users are pushing super-heavy robot applications and are now seeing the need for comparable robot floor tracks to maximize work envelopes," said Joe Campbell, vice president of sales & marketing for Güdel. "At these payloads, the demand for highest quality, performance and durability is critical, and Güdel's proven linear motion technology delivers."
The linear floor track cost-effectively and reliably extends the work envelope of these super-heavy-payload robots, which can be a critical component in justifying the significant price point of the machinery. These massive robots are ideal for transferring extremely large and heavy items such as truck and tractor frames, automotive bodies, loaded pallets and large castings, where being able to linearly shift the robot along the floor means extended reach and handling capabilities.
The powerful drive system consists of Güdel gearboxes, Güdel heavy-load guideway systems and Güdel racks and pinions, all made in Güdel's dedicated Swiss production facilities. The Güdel cam follower on guideway system features replaceable cam follower cartridges designed to facilitate quick change-out. This cam follower system is also very durable in dirty manufacturing environments. The TMF-6 can be configured with up to two robot carriages as standard. Like other Güdel TMF sizes, the TMF-6 can be extended from the shortest length of 3 m to up to 100 m.
About Güdel Inc.
Güdel Inc. is the U.S. subsidiary of Güdel Group, a global manufacturer of robotic automation products, systems and services. Güdel supplies linear motion modules, robot track motion units and gantry robots and components to OEMs, systems integrators and machine builders serving the automotive, aerospace, logistics, heavy industrial and power-generation industries. Güdel Inc. is located in Ann Arbor, Michigan, in a dedicated 45,000-square-foot facility, providing North American customers with engineering, design, production and customer service support.
Güdel Group was founded in 1954. Headquartered in Langenthal, Switzerland, Güdel today operates in 21 locations worldwide.