Güdel, Inc. Appoints Shawn LaMeau as Business Unit Manager for Press Automation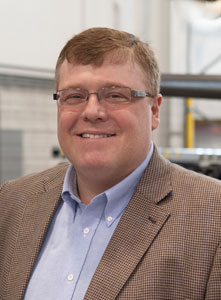 ANN ARBOR, MICHIGAN - Stefan Nilsson, CEO of Güdel, Inc. the US subsidiary of Swiss based Güdel Group, announced today the appointment of Shawn LaMeau as manager of the company's Metal Sheet Handling business unit. Reporting directly to Nilsson, Shawn will lead all commercial, business development and operating functions for the business unit.
Shawn replaces Mariano Garcia, who will continue in his current role as CEO of Gudel Mexico. "We are very pleased to have Shawn join the Güdel team", noted Nilsson, "Press Automation is one of our key industry segments, and we expect to continue our growth and expansion under Shawn's leadership".
Prior to joining Güdel, he held senior management positions with KUKA Systems, Utica Automation, DCT/Strothman and ISI Norgren, including 15 years in Press Automation. Shawn received his BS in mechanical engineering from Lawrence Technological University, and his MBA from Davenport University. Shawn is a member of the Society of Manufacturing Engineers.
Güdel Inc. is the US subsidiary of Güdel Group, a global manufacturer of robotic automation products, systems and services. Güdel supplies linear motion modules, robot track motion units, gantry robots and components to OEM's, systems integrators and machine builders serving the automotive, aerospace, logistics, heavy industrial and power generation industries. Güdel Inc. is located in Ann Arbor, Michigan in a dedicated 45,000 square foot facility, providing North American customers with engineering, design, production, and, customer service support.
Güdel Group was founded in 1954. Headquartered in Langenthal, Switzerland, today Güdel operates in 21 locations worldwide.