Güdel Brings Real and Virtual Reality Intelligent Motion Demos to FABTECH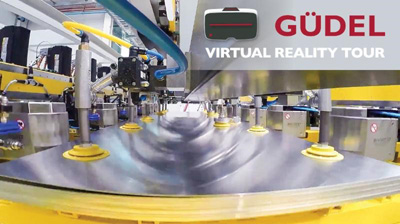 Be sure to drop by Güdel's booth B35044 during FABTECH 2017 in Chicago, November 6–9, to see our latest intelligent motion solutions for robotic applications in the metalworking, forming, welding and finishing industries. This year during FABTECH, Güdel will demonstrate an 11-foot-high TrackMotion Vertical (TMV) installation carrying a Yaskawa Motoman MA2010 robot; an ArcTrack enhancement to our TrackMotion Floor (TMF) product line that carries the entire arc-welding cell, not just the robot; our newest components for intelligent motion; and an exciting virtual reality tour and 3D Press Automation model that includes the Front of Line, Robo Speed and End of Line solutions, which can drive aluminum destacking applications from the industry-best 12 parts per minute to unprecedented speeds of up to 18 parts per minute, boosting destacking speeds by 50 percent. And be sure to catch Bob Rochelle, Güdel's Area Sales Manager and Logistics Market Specialist, when he delivers his presentation, "Robot-Based Automation Systems," on November 7 at 1:30 p.m.
Visit us at Booth B35044 to see these Güdel intelligent motion solutions in action:
ArcTrack
Get the highest arc-on productivity for large weldments with ArcTrack, a preconfigured version of the Güdel TMF-2 floor track. A customized shelf lets you haul a full-size wire spool, a torch reamer and weld equipment with your welding robot to reach even the largest work envelope requirements. Demo includes a KUKA KR5-2 arc HW with KR C4 controller and a Fronius TPS 320i MIG/MAG welding system.
Virtual Reality
Güdel will show how its intelligent motion solutions are helping Press Automation and metalworking applications to improve throughput by up to 50 percent via a one-of-a-kind virtual reality experience.
TrackMotion Vertical
Güdel's TrackMotion Vertical (TMV) will be on display, carrying a Yaskawa Motoman MA2010. Don't miss this high-speed 11-foot vertical-lift demo, showing you one more way Güdel helps you go further and do more.
New Components Display
See the precision components that are the basis of our reliable automation units. Many of these components are available to machine builders for use in their own designs, giving them the Güdel advantage of components designed and manufactured with Swiss quality for durability and reliability.
TrackMotion Overhead
Güdel's TrackMotion Overhead (TMO) module is on display, with a FANUC M-20iA/35M robot on board. The TMO saves floor space and extends the robot work envelope for material handling, machine tending and welding. TMOs can be elevated, wall- or ceiling-mounted. Come see the different ways linear tracks can optimize your robot investment.