Güdel Announces TrackMotion Support for New KUKA Agilus Robot
TrackMotion Overhead (TMO) module combined with KUKA Agilus results in perfect fit for Midwest Engineered Systems Inc.
ANN ARBOR, MICHIGAN - Güdel's TrackMotion technology, now in its third generation, supports the new Agilus robot from KUKA. The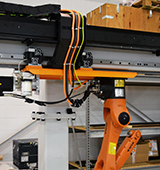 smaller footprint of today's TrackMotion design allows the compact KUKA Agilus robot to fit in tight spaces even while extending the robot work envelope. Midwest Engineered Systems (MWES) recently highlighted this with a machine tending application in highly restricted space.
"Güdel made this easy for us," said Vincent Panzarella, Project Manager, Midwest Engineered Systems Inc. "We were able to download 3D models of their new TMO-1-C for immediate inclusion in the system layout. We determined in advance the carriage on the rail had to be lengthened to give us enough reach."
Güdel supports integrators with engineering services for the latest robots such as the KUKA KR AGILUS: KR 10 R100 sixx, and upon request provides robot installation with switches and support brackets, cables, energy chain, pneumatics and testing.
"Gudel offers four (4) sizes of standard robot tracks, both overhead and floor mount, that cover 98% of the robot models available on the market," noted Joe Campbell, Gudel Vice President. "When innovators like KUKA bring new robot models to market, we can quickly support them with our standard TMF and TMO product lines."
Güdel TrackMotion TMO is the latest generation in overhead robot tracks from the world's leader in auxiliary robot motion. TMO innovations include higher performance and reliability, configurable and scalable designs and reduced lead times.
TrackMotion TMO is a family of overhead robot tracks built with the latest linear motion components from Güdel. There are three types of TMOs designed specifically for elevated (E), wall (W) and inverted ceiling (C) robot orientations. TMOs come in four sizes to accommodate the smallest robot up to models in the 2,500 pound range or static loads up to 5,000 pounds. TMO is rated for speeds up to 2.5 meters per second with acceleration of 2.5 m/s2. Güdel floor and overhead tracks can be used with virtually any robot brand, and can be configured in virtually any length, with multiple carriages and straight, cantilevered and bridged leg options. TrackMotion Floor (TMF) is another standard module.
For more information about TrackMotion TMO , TMF, gantries and other products or service from Güdel, go to www.us.gudel.com.
About Güdel Inc.
Güdel Inc. is the US subsidiary of Güdel Group, a global manufacturer of robotic automation products, systems and services. Güdel supplies linear motion modules, robot track motion units, gantry robots and components to OEM's, systems integrators and machine builders serving the automotive, aerospace, logistics, heavy industrial and power generation industries. Güdel Inc. is located in Ann Arbor, Michigan in a dedicated 45,000 square foot facility, providing North American customers with engineering, design, production, and customer service support. Güdel Inc. also operates a satellite engineering office in Troy, MI.

Güdel Group was founded in 1954. Headquartered in Langenthal, Switzerland, today Güdel operates in 21 locations worldwide.