Groundbreaking Innovations at the SPS IPC Drives
B&R presents mapp technology and the new ACOPOS P3 servo drive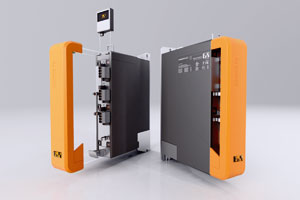 B&R will be presenting two groundbreaking innovations at this year's SPS IPC Drives trade fair (Hall 7 / Booth 206). With mapp technology, the automation specialist is heralding a revolution in the development of automation software. The new ACOPOS P3 – the fastest servo drive with integrated safety functions on the market – is just as pioneering.
Develop software 67% faster with mapp
mapp technology simplifies the development of new programs through the use of modular software blocks, freeing developers from having to program basic functions so they can instead concentrate on their main task: implementing the machine or system process itself in application software. In addition to reducing the development time for new machines and systems by an average of 67%, mapp technology also results in savings for service and maintenance.
High performance with a compact design
The ACOPOS P3 represents a similarly impressive progression in automation technology. This three-axis servo drive allows space savings of up to 69% in the control cabinet. In spite of its compact design, however, it also features a sampling time of 50 µs for the entire controller cascade, making it the fastest servo drive with safety functions on the market.
Other trade fair highlights will include the Automation PC 2100 – a fully equipped industrial PC with an ultra-compact form factor – and a business intelligence solution for B&R's APROL process control system.

B&R company profile
As a global leader in industrial automation, B&R combines state-of-the-art technology with advanced engineering to provide customers in virtually every industry with complete solutions for machine and process automation, motion control, HMI and integrated safety technology. With industrial fieldbus communication standards like POWERLINK and openSAFETY as well as the powerful Automation Studio software development environment, B&R is constantly redefining the future of automation engineering.

B&R Industrial Automation, Inc. North America, based in Atlanta, GA, has been working closely with its customers since 1987. Since then, B&R North America has continuously grown as a sales and support organization through both direct sales offices and B&R's unique Automation Partner distribution network. Today, B&R North America has a network of more than 20 offices throughout the USA and Canada and is there for its customers locally. For more information, please visit www.br-automation.com.