Grasshopper3 GS3-U3-41C6 Cameras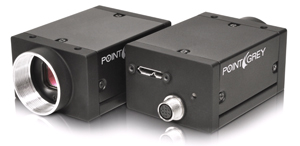 Point Grey, a world-leading designer and manufacturer of innovative, high-performance digital cameras, today announced the addition of new 4.1 megapixel global shutter CMOS models to the Grasshopper3 family of high quality, high resolution USB 3.0 cameras.
The Grasshopper3 digital camera line now offers a total of 10 different monochrome and color models designed to address a wide variety of machine vision and life science applications, including 3D scanning, electronics assembly inspection, microscopy, and ophthalmology. The new Grasshopper3 GS3-U3-41C6 models are based on color and monochrome versions of the extremely fast and very sensitive CMOSIS CMV4000, a 1" CMOS featuring 5.5 micron square pixels and 2048 x 2048 pixel resolution.
The Grasshopper3 uses Point Grey's proprietary USB 3.0 link layer IP – implemented in an FPGA – together with a 128 MByte frame buffer to provide optimal reliability and ensure every image captured is delivered to the PC. Every model measures just 44 x 29 x 58 mm in size and offers a rich set of features, including a full image processing pipeline that supports color interpolation, look up table, and gamma correction; robust, opto-isolated GPIO for industrial triggering and strobe output; pixel binning and region of interest modes; and user configuration sets for custom default settings. USB3 Vision™-compliant firmware will be available for Grasshopper3 models by the end of Q4 2013.
"Our FPGA-based USB 3.0 design makes the Grasshopper3 unique in being able to stream full 4.1 MP resolution images at 90 FPS, versus 75 FPS in other cameras," says Michael Gibbons, Director of Sales and Marketing at Point Grey. "This new model is ideal for customers who want to stream high resolution, high speed, global shutter images on a wide range of USB 3.0-enabled computers where other digital interfaces, such as dual GigE or Camera Link, are either not an option or too expensive to implement."
The GS3-U3-41C6 (1-inch 4.1 MP CMOS 90 FPS) is list priced at $1,595/€1.195 and is available to order now from Point Grey, its network of distributors, and the online store (for North American and Australian customers). Additional CCD-based Grasshopper3 models are planned to be released later in 2013.