Grasshopper®3 USB3 Vision CMOS Camera with Enhanced Near-Infrared (NIR) Imaging
Ric

hmond, BC, Canada – Point Grey, a world-leading designer and manufacturer of innovative, high-performance digital cameras, today announced the addition of a new 4.1 megapixel CMOS model with improved near-infrared response to the Grasshopper3 family of high quality, high resolution USB 3.0 cameras.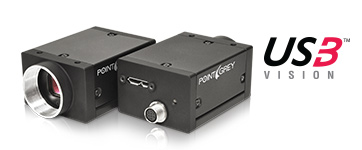 The new Grasshopper3 GS3-U3-41C6NIR model is based on a monochrome version of the extremely fast CMOSIS CMV4000-3E12 device, a 1" global shutter CMOS sensor featuring 5.5 micron square pixels and 2048 x 2048 pixel resolution running at 90 fps. This sensor uses a 12 µm substrate layer that has increased thickness to enhance sensor response between 750 nm and 1000 nm in the near-infrared region of the optical spectrum. Increased sensitivity in this region will benefit applications such as open road tolling in traffic systems, fruit and vegetable inspection, ophthalmology, eye tracking, or failure analysis in industrial applications.
Like all Point Grey USB 3.0 cameras, the Grasshopper3 uses a proprietary USB 3.0 link layer and frame buffer-based architecture for optimal performance and reliability. The Grasshopper3 uses an advanced image processing pipeline to enable look up table, gamma correction, pixel binning and USB3 Vision support.

"We are excited to enable new sensor technologies designed to increase near-infrared sensitivity and address customer demand for improved performance in targeted applications," says Michael Gibbons, Director of Sales and Marketing at Point Grey. "The GS3-U3-41C6NIR model provides an appealing combination of high resolution, global shutter CMOS, fast frame rate and optimized NIR response. This makes it ideal for applications such as intelligent traffic systems, which rely on infrared lighting to illuminate license plates without distracting drivers or pedestrians, or industrial applications such as printed circuit board inspection, which rely on infrared lighting to detect points of failure."
The GS3-U3-41C6NIR (1-inch 4.1 MP CMOS 90 FPS) is list priced at $1,595/ EUR 1.195 and is available to order now from Point Grey, its network of distributors, and the online store (for North American, EU and Australian customers).

About Point Grey:
Point Grey Research, Inc. is a world-leading designer and manufacturer of innovative, high-performance digital cameras for industrial, life science, traffic, and surveillance applications. We offer a unique and comprehensive portfolio of USB3 Vision, GigE Vision, FireWire, USB 2.0 and Camera Link products known for their outstanding quality, ease of use, and unbeatable price-performance. Point Grey was founded in 1997 and is based in Richmond, Canada. A broad range of hardware, software and mechanical engineering skills under one roof has allowed Point Grey to successfully bring many innovative and ground-breaking products to market. This drive for innovation has led to many industry firsts, including the world's first and smallest 1394b digital camera, the smallest GigE camera, and the first USB 3.0 machine vision camera. Point Grey currently employs over 170 people and has international offices in Germany, China, Japan, and Italy. The company also has a strong network of distributors in Japan, Korea, Singapore, China, Taiwan and the United Kingdom.