Gocator 4.0 Firmware Release
Complete redesign improves efficiency of the inspection process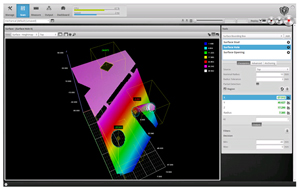 Vancouver, Canada – LMI Technologies (LMI), a leading developer of 3D scanning and inspection technologies, today announced the official launch of Gocator 4.0 Firmware release. The firmware supports the Gocator 3D Smart Sensor product line including displacement, profile, and snapshot sensors. The latest Gocator 4.0 firmware is a complete redesign of the web browser user interface experience that improves the efficiency of the inspection process.
"Driven by market feedback, Gocator 4.0 Firmware has an improved workflow and layout that aligns with common industry practices," said Chi Ho Ng, Product Group Manager. "Measurement tools are intuitively regrouped by categories for quick setup. Its modern yet sophisticated graphical user interface delivers simpler setup of measurement tools while maintaining advanced capabilities and control. Gocator 4.0 Firmware truly redefines the user experience."
Major developments to Gocator 4.0 Firmware release includes:
Part Edge Filtering Improves Measurement Accuracy
Gocator 4.0 Firmware has a built-in capability to remove noise around the perimeter and interior of scanned surfaces or parts. Noise filtering increases repeatability and accuracy of 3D measurements by allowing the measurement regions to be placed with precision without any noise interference.
Greater Ability To Handle Part Variations With Flexible Anchoring
With flexible anchoring, measurement results can be used as anchoring sources for other measurements. This feature supports multiple anchoring sources within the same setup. Measurement tools can now be used to solve complex applications with part position and size variations, giving users the flexibility in setting up measurement tools.
Surface Generation Offers Flexibility With Various Setup Options
The new firmware now supports a number of methods to create a surface or a 3D point cloud. This provides greater control and flexibility for supporting common industry scanning methods such as conveyor, web, robotic, and rotational scanning setup.
Improvements To SDK Simplify Software Programming
The SDK is updated to provide cleaner API along with built-in support for multi-sensor systems. Simplified programming for multi-sensor systems greatly reduces software development time.
Compact Protocol Delivers Faster Processing Speed
The new Gocator Ethernet (TCP/IP) protocol reduces overhead and makes data parsing much easier. Reduced network bandwidth and data processing requirements allow applications to run faster on the same hardware.
Starting today, Gocator 4.0 Firmware is available as a free download. The firmware files, release notes, SDK files, and user manual can be downloaded at www.lmi3d.com/support/downloads/. Customers can also directly download the firmware in the Gocator interface. To learn more about the latest Gocator 4.0 Firmware, including videos of the new features, please visit www.lmi3d.com/products/gocator/firmware/.
About LMI Technologies
At LMI Technologies, we are passionate about developing 3D scanning and inspection technologies that solve complex problems in a simple way. We take our knowledge and experience from working over 35 years in the field and connect our customers to 3D solutions that enable them to achieve better business results. We build our products from the chip level up: from concept, design, to manufacturing. With offices worldwide, we are committed to delivering the best 3D sensors, 3D smart sensors, and 3D scanners for your application.