GigE uEye LE Industrial Camera
WOB

URN, MA -- IDS Imaging Development Systems, a global leader in medical and machine vision, has introduced the GigE uEye LE industrial camera that merges 1.3 megapixel performance with GigE Vision imaging in a small, board-level format. Measuring just 45mm x 45mm, this compact camera provides an increased degree of mounting flexibility in limited space applications such as semiconductor inspection,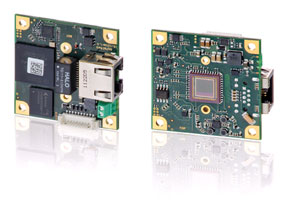 failure analysis, and high speed/high resolution imaging.

Tailored to the needs of large volume OEMs, the affordable GigE uEye LE features the GigE Vision interface, helping it achieve frame rates as high as 50 fps at full resolution while also allowing for the use of cables up to 100 meters long. Outstanding versatility comes from its 1280 x 1024 pixel CMOS sensor from e2v available in monochrome and color versions, as well as an NIR model with dynamic range in the near-infrared region of the spectrum.

The GigE uEye LE has a rich feature-set sought after by OEM customers, including digital in- and outputs for trigger, flash, pulse-width modulation and 2 GPIOs. Power (12-24 V) is supplied via an external power supply. An M12 lens mount from Lensation is available as an option.

When used with IDS software package 4.01, the e2v sensor provides a new Log Mode especially designed for HDR images that assures sharp details even in overexposed and high dynamic range scenes. Additionally, the new sensor boasts 4 shutter modes -- rolling shutter, rolling shutter with global start, global shutter and global shutter with alternative timing -- making the GigE uEye LE a perfect fit for a great range of industrial applications.

ABOUT IDS
IDS is a leading manufacturer of digital industrial cameras and frame grabbers. The company was founded by two engineers in 1997. Their mission then and now is to develop, manufacture and distribute industrial grade imaging components with an excellent price/performance ratio and maximum ease of use. IDS is internationally represented by a subsidiary in the USA and through a network of distributors in almost all European and Asian countries. About half of IDS employees are engineers in hardware and software development as well as applications engineering. IDS customers include OEMs, system integrators and manufacturers in the industrial, security, scientific and medical industries. Over 250,000 IDS frame grabbers and 180,000 USB and GigE uEye cameras are in use worldwide today.