GigE Board-level Camera with Remote RJ45 Interface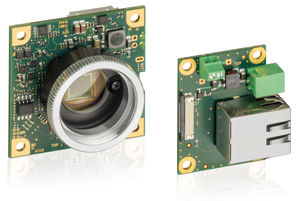 Obersulm - Easy to integrate into very small spaces.
IDS now offers solutions for camera integration into very small or angled spaces, by presenting the new UI-524xLE-MB GigE board-level camera series with remote interface. The board with camera and lens and the RJ45 interface are connected by a flex ribbon cable, and can thus be installed independently. The board-level cameras are equipped with a 1.3 megapixel CMOS sensor from e2v: the 1/1.8" sensor is available as color, monochrome or NIR version, providing a maximum frame rate of 50 fps. Available with S-mount, CS-mount, or without lens holder.
Cameras of the GigE uEye LE series are among the most compact board-level industrial cameras that are currently available on the market. With these new versions with RJ45 remote interface, OEM's and small-appliance constructors can now integrate cameras into small spaces more easily. The Gigabit Ethernet interface allows cable lengths up to 100 meters, which ensures high flexibility.
The board-level cameras are equipped with connectors for trigger and flash as well as with two GPIO that open up a wide range of applications in industrial and non-industrial environment. By using the I2C bus, external devices can additionally be controlled.
Due to the high bandwidth, the GigE cameras are suitable also for multi-camera operation. The internal 60 MB image memory for decoupling between image capturing and image transfer is another feature of the board-level camera.
Company Contact
Jan Jordan
Tel: 07134 / 961 96 - 154