GIE62+ Network Card Provides Support for GigE Cameras with PoE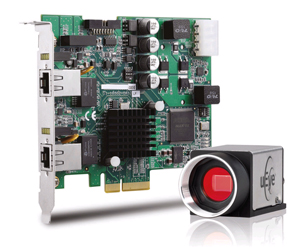 IDS GmbH, a global leader in machine vision technology, now offers an Adlink GIE62+ network card providing support for two Power-over-Ethernet (PoE) Gigabit Ethernet cameras. Available immediately, the new card is PCI Express x4 compliant and delivers data transfer rates of up to 1000 Mb/s, as found with most Gigabit Ethernet cameras.
Additionally, the GIE62+ features a single cable solution through the combination of power and data lines with cable lengths of up to 100 meters and is also IEEE 802.3af compliant. Two isolated inputs/outputs allow connecting external devices as well as two programmable TLL outputs to manage trigger events are an additional benefit.
Microsoft Windows Vista, XP and 7 (32/64 bit) operating systems support the card.