GEVA 3000 High Performance Vision System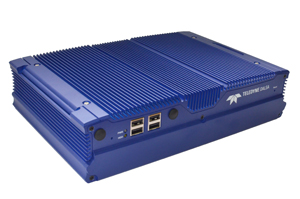 Teledyne DALSA, a Teledyne Technologies company and a global leader in machine vision and smart camera technology, today announced the release of GEVA 3000, the newest addition to the GEVA line of Vision Systems. With more than six times the processing performance of the entry level GEVA 300 and up to three times the performance of the GEVA 1000, the ruggedized GEVA 3000 provides a robust and highly capable industrial vision system for applications on the factory floor.
The fanless GEVA 3000 reduces downtime and maintenance costs associated with deploying standard PC solutions in harsh industrial environments. Equipped with a Gen3 Core i7 processor, choice of camera interface and ready-to-use application software, the GEVA 3000 delivers the out-of-box performance to satisfy a wide range of single or multi-camera inspection needs.
"Familiarity, performance and flexibility of PC technology make it well suited for complex vision applications," says Steve Geraghty, Director of Teledyne DALSA's Industrial Products. "The GEVA 3000 combines this value proposition with a rugged enclosure and integrated camera ports to offer a solution that is equally well suited for industrial deployment."
The GEVA 3000 is offered in two models for interfacing GigE or Camera Link® cameras. The standard model includes six Gigabit Ethernet (GigE) ports that support a wide range of expandable camera configurations. Optional USB based companion modules offer I/O expansion and easy integration of Teledyne DALSA Genie™ cameras. The Camera Link model, which can acquire simultaneously from two Camera Link base or one medium style camera, is designed for tasks that require higher resolution and faster frame rates.
Vision solutions on the GEVA 3000 are setup using Teledyne DALSA's iNspect Express or Sherlock 64-bit application software. iNspect Express software is easy to use and requires little or no prior vision experience, while Sherlock 64-bit software offers greater performance and flexibility to tackle more challenging inspection tasks. Both software packages offer a wide selection of proven tools and capabilities.
Key features include:
Gen3 Core i7 @ 3.2 GHz
8 GB program memory, 60 GB SSD storage
6 GigE or 2 Camera Link camera ports
6 USB ports, 2 RS-232 and multiple display ports
0-45°C fanless design
I/O support via external PL-USB or direct on CL model
Win7 Embedded O/S with EWF
iNspect Express and Sherlock 64-bit software
For more information about the GEVA 3000 system, visit the Vision Appliances section of the Teledyne DALSA web site.

About Teledyne DALSA, Inc.
Teledyne DALSA, a Teledyne Technologies company, is an international leader in high performance digital imaging and semiconductors. The company designs, develops, manufactures and markets digital imaging products and solutions, in addition to providing specialized semiconductor products and services including MEMS.

About Teledyne DALSA's Machine Vision Products and Services
Teledyne DALSA is a world leader in the design, manufacture and deployment of digital imaging components for the machine vision market. Teledyne DALSA image sensors, cameras, smart cameras, frame grabbers, and software are used in automated inspection systems across many industries and applications.
Embedded Vision
This content is part of the Embedded Vision curated collection. To learn more about Embedded Vision,
click here
.