GENCO ATC to Install Kollmorgen Pick-n-Go® Outfitted Forklifts
Pilot project promises significantly increased distribution center productivity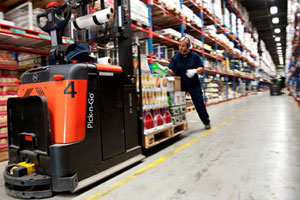 RADFORD, VA – Kollmorgen, a leading manufacturer of driverless control technology, and GENCO ATC, North America's second largest third-party logistics supplier, have agreed to a pilot Pick-n-Go® installation for two automated Crown SHR5500 forklifts at a GENCO-managed distribution center in Jacksonville, Florida. This is the first order for Pick-n-Go outfitted forklifts in the United States, and will serve as a reference site for future Pick-n-Go rollouts within the GENCO ATC network. Kollmorgen's Pick-n-Go order picking system can increase order picking productivity by up to 100% and decrease operating costs.

"We are delighted to be working with GENCO ATC on this project. Based on its field-proven operation in Europe, we fully expect Pick-n-Go to deliver exponential operating efficiency improvements for GENCO ATC, leading to an aggressive roll-out of Pick-n-Go to other GENCO ATC facilities throughout the U.S.," says Benny Forsman, Kollmorgen Business Unit Manager, Pick-n-Go North America.

GENCO ATC will use two forklifts automated with Pick-n-Go systems to help maximize case selector productivity by automatically fetching empty pallets and moving between pick locations without requiring employees to jump on and off the forklift to move it. Once an order is completed and/or the pallet is full, the forklift will automatically deliver the completed pallet to the stretch wrapper, while the employee is free to continue building the next pallet. Additionally, the Pick-n-Go system will ensure ideal pallet positioning for improved ergonomics.

"GENCO ATC continually strives to optimize our processes to enable future cost reductions and increase OTD and overall service for our clients. And in evaluating Pick-n-Go, it was clear that this technology will give us, and our customers, a real advantage in an otherwise extremely competitive market," says Andy Hunter, GENCO ATC Supply Chain Engineer, Strategic Solutions.

Pick-n-Go is a highly flexible order picking system that streamlines any order fulfillment process, with significantly reduced operating expenses. The Pick-n-Go system seamlessly integrates with existing Warehouse Management Systems and established processes, and is easily adapted to satisfy specific application needs. Where other automated order picking systems are extremely costly and may require a completely overhauled order handling and storage process or significantly expanded warehouse size, Pick-n-Go works in the context of the existing distribution center environment with existing hardware and infrastructure.

ABOUT GENCO ATC
GENCO ATC is North America's 2nd largest and a Global Top 50 third-party logistics provider and the recognized leader in reverse logistics. The company manages over 120 operations and 37 million square feet of warehouse space throughout North America for a diverse range of retail, manufacturing and government customers, including many Fortune 500 companies. As the industry's most innovative product lifecycle logistics provider, GENCO ATC provides a complete range of solutions, including forward logistics, transportation logistics, parcel negotiation and audits, reverse logistics, consumer electronics test & repair, product remarketing, damage research, pharmaceutical services, government logistics and operations management, supply chain technology and automotive remanufacturing.

ABOUT KOLLMORGEN
Kollmorgen is a leading provider of motion systems and components for machine builders around the globe, with over 60 years of motion control design and application expertise.

Through world-class knowledge in motion, industry-leading quality, and 35 years of proven performance in driverless control technology, Kollmorgen continues to deliver breakthrough driverless control solutions unmatched in performance, reliability and ease-of-use, giving warehouse operations an irrefutable marketplace advantage.