Futura Automation Adds Regional Manager for Ohio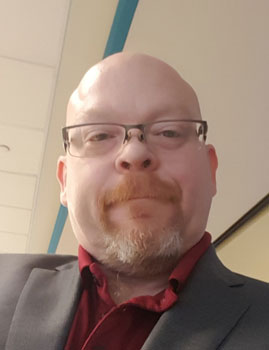 SCOTTSDALE, AZ - Futura Automation LLC is pleased to announce the addition of Mr. Robert Trippett of Columbus, Ohio, to its sales team. He graduated from DeVry University, Columbus, in 2004 with a Bachelor of Science in Electronics Engineering Technologies. Mr. Trippett spent the past 12 years in the rubber molding industry half that time working for Rubber Molding Technologies. Experience gained during this period included installing new presses, most of which were custom installs in the 15 – 900-ton range and often included robotic mold loading/unloading, machine safety and de-flashing systems. The past six years were spent in Burlington WI working as the Equipment Specialist for Lavelle Industries where he was responsible for equipment reliability and upkeep at a 24/7 factory with approximately 220 employees.
Most recently Mr. Trippett worked as an entrepreneur as RKT Engineering LLC, supporting Futura Automation partner, Manufacturing Asset Solutions (MAS). as a Project Manager and Project Engineer. His certifications include: Level 1 Infrared Inspector, Level 1 Ultrasound (Airborne) Inspector, ISO CAT I and ISO CAT II Vibration Analysis, Lean / 6 Sigma Green Belt, AB VFDs, AB Logix 500, AB Logix 5000, Omron PLC Workshop and Training Within Industry.
Mr. Trippett is responsible for the Futura Automation product lines represented in the Ohio region: Applied Robotics, Carter Enterprises, Flexomation, Glide-Line, Joulin, Motion Solutions, QC Conveyors, Robot System Products, Sicron, Technology Brewing, Toshiba Machine Robotics, Visumatic and Weintek. Futura Automation is also partnered with Manufacturing Asset Solutions (MAS) for their software services: Express Maintenance CMMS and ToolTrax.
Futura Automation, based in Scottsdale, AZ, is a Manufacturer's Rep and manufacturing consulting firm focused on "Industry 4.0" and the automation needs of advanced manufacturing, end-of-line packaging and robotics customers. The team at Futura Automation on average have 20+ years' experience in industrial automation systems in the automotive, aerospace, building material, electronics, consumer products and food, medical, pharma, solar and wood product industries. The F-A team offers expertise in tool maintenance, machining, machine safety, packaging, robotic handling cell automation and now molding, vibration and thermal analysis. With offices in Arizona, North Carolina, Southern California, Ohio, Oregon and Washington, Futura is well positioned in the highest growth industries in North America.
"Futura Automation offers solutions for many of the needs of robot and automation customers with our expertise applied to the breadth and depth of our product and service offerings. We provide competitive solutions to tough manufacturing problems", says President Brian McMorris. "Mr. Trippett is a great addition to our growing team. He will help us deliver "Industry 4.0" solutions and benefits to our Ohio area clients."