Fronius Melds Repeatability and Prosperity with Robot Industry
By Brian Huse, Director, Marketing & PR, Robotic Industries Association
Fronius
, maker of digital welding technology, is a newer member of Robotic Industries Association and one that has prospered through good and bad economic times. By some accounts, their solar division is up 200 percent in the latest budget year, and they are adding staff in the U.S. division that covers digital welding technology.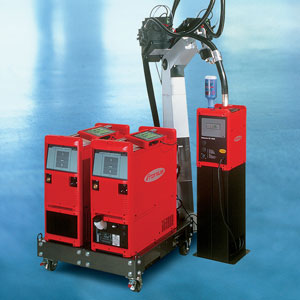 Robot and automation users can benefit from what they offer when it comes to battery chargers and welding transformers. They emphasize quality and repeatability at Fronius, where the labs keep developing new and improved approaches to the welding and energy conversion process. In a year where many are dogged by economic depression they have had a good year and are in the happy position to hire and grow.
Fronius has a policy to foster employee enthusiasm which manifests when you talk with Stephanie Sartwell at the Brighton, Michigan office. Her passion comes over the phone and in person, and as the New Year approaches she has happy news about business conditions at Fronius which is poised to hire an Executive Sales Assistant and an Area Sales Manager in 2010.

Brian Huse has been with Robotic Industries Association since 1994. In a "walkabout" of the industry that started in 1998, he worked for member companies Deneb (now DELMIA) and Norgren Automotive; a four-year stint in which he was immersed in the business of software and hardware manufacturing for the robotics industry. Armed with a greater appreciation for the needs of RIA's members and their publics, he rejoined the Association in 2001 and has responsibility for membership, marketing and public relations. See his blogs on Robots in America and watch for tweets from his perch on Twitter (@HuseBrian) where the goal is to say nice things about RIA members and leave helpful nuggets about the state-of-the-industry.