Frommelt® Safety Products' New Kwik-Snap Interlocking Safety Curtains Allow Users to Easily and Quickly Create a Safer Work Space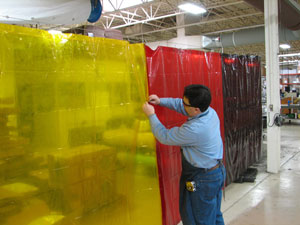 MILWAUKEE, Wis. – The new Kwik-Snap interlocking safety curtains from Frommelt® Safety Products snap together effortlessly, allowing users to quickly and easily to create a safer work space designed to protect employees against the dangers of weld flash and flying debris.
The competitively priced Kwik-Snap curtains, which are constructed of 14-mil PVC, feature snap fasteners along the sides so that users can connect the panels together in a diverse range of configurations. For durability, the snap fasteners are sewn into each curtain. The curtains also come complete with grommets mounting hooks for ease of installation.
Color options include yellow, orange, and bronze colors. Standard sizes of the Kwik-Snap curtain are 6 x 4 feet and 6 x 6 feet. The sizes allows users to configure the curtain into any number of configurations and sizes, such as 6 x 8 feet, 6 x 12 feet, 12 x 10 feet, 12 x 8 feet, 6 x 16 feet, plus many others.
More information about the Kwik-Snap interlocking curtains can be found at www.frommeltsafety.com. Send inquires to Rite-Hite Corporation, 8900 North Arbon Drive, Milwaukee, WI, 53223.
About Frommelt Safety Products
Frommelt Safety Products is a recognized leader in industrial safety curtains and machine guarding products, with a commitment to excellence in the key areas of technological innovation. For more information on the Slim-Line Door and other machine guarding products, call 800-553-5560, or visit www.frommeltsafety.com.


Contact:
Gerry Timms
Frommelt® Safety Products
414-362-6379