Free Machine Vision Seminar in Boston Area - September 25th
September 25, 2018 • Greater Boston Area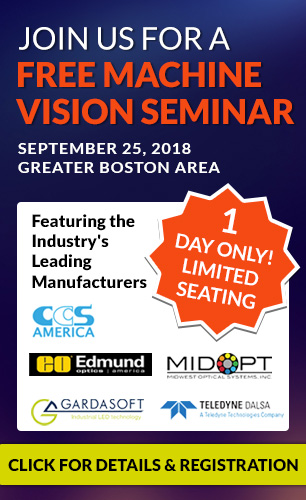 Registration is open now for this unique, free opportunity to learn about advanced machine vision technologies and techniques from the leading global manufacturers of machine vision cameras and components.
Phase 1 Technology, a premier distributor representing the world's top machine vision camera and component manufacturers, is holding the first in its series of machine vision technology seminars this coming Tuesday, September 25th at the Sheraton Framingham Hotel in the Boston area.
The one day event – which starts at 9 am and includes complimentary lunch and beverages - features presentations by Marc Landman, Vice President, CCS America; Gregory Hollows, Vice President - Imaging Business Unit, Edmund Optics; John Merva, Vice President, Gardasoft; Georgy Das, Technical Training Manager, Midwest Optical System; and Manuel Romero, Product Line Manager - Area Scan products, Teledyne DALSA.
Presentations will cover such topics as how to deal with unexpected light level changes; practical examples of how previously impossible images can be created with ease leveraging computational imaging; imaging trends for 2019 and beyond; leveraging different optical filter types; and how sensor technology is affecting optics. Teledyne Dalsa will also reveal its new family of 5G Nano cameras.
The free, one day Machine Vision Technology Seminar is Tuesday, September 25th, starting at 9 am at the Sheraton Framingham Hotel in the Boston area. Registration is limited to 50 attendees.
For more information and to register for this free, one day seminar, visit https://www.phase1vision.com/events/machine-vision-seminar.