Flexiv Won The iF DESIGN AWARD 2020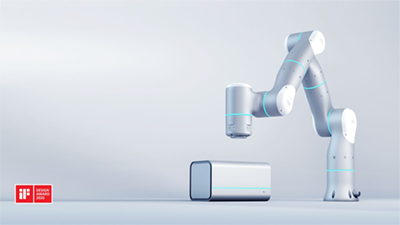 Flexiv was a winner of this year's iF DESIGN AWARD, the world-renowned design prize. The winning product, Flexiv RIZON, won in the discipline PRODUCT, in the INDUSTRY category. Each year, the world's oldest independent design organization, Hannover-based iF International Forum Design GmbH, organizes the iF DESIGN AWARD.
Flexiv RIZON won over the 78-member jury, made up of independent experts from all over the world, with its unique adaptivity, simple but aesthetical industrial design, brand-new product value. The competition was intense: 7,298 entries were submitted from 56 countries in hopes of receiving the seal of quality.
RIZON is the world's first adaptive robot that fuses high-performance force control, computer vision and AI technology. It can adapt to changing and uncertain environments and automate complex tasks with 'hand-eye coordination' like human. Compared with traditional industrial robots and collaborative robots, Rizon has three distinguishing characteristics including high tolerance for position variance, great disturbance rejection and transferable intelligence. Rizon brings the following value to the industry: simple but aesthetical design, better hand-eye coordination, more flexibility to production and more possibilities generated by AI. The winning of iF Design Award 2020 shows iF jury's recognition of Rizon's practical value and design philosophy.
More information about Flexiv RIZON can be found in the "Winners" section of the iF WORLD DESIGN GUIDE.
About the iF DESIGN AWARD
Started in 1953, iF DESIGN AWARD is globally known for its concept as 'independent, rigorous, reliable'. For 67 years, it has been recognized as an arbiter of quality for exceptional design. The iF label is renowned worldwide for outstanding design services, and the iF DESIGN AWARD is one of the most important design prizes in the world. Submissions are awarded in the following disciplines: Product, Packaging, Communication and Service Design, Architecture and Interior Architecture as well as Professional Concept. All awarded entries are featured on the iF WORLD DESIGN GUIDE, in the iF design app and are displayed at the iF design exhibition in Berlin.
About Flexiv
Flexiv Ltd. is a global leading robotics and AI company, focusing on developing and manufacturing adaptive robots which integrate force control, computer vision and AI technologies. Flexiv provides innovative turnkey solutions and services based on Flexiv robotic systems to customers in multiple industries. Flexiv was founded in 2016 with a core team from robotics and AI laboratories at Stanford University. Today, Flexiv has established offices in Santa Clara, Shanghai, Shenzhen, Beijing and Foshan.