Flexiv Rizon Has Been Honored by German Innovation Award 2020
On 26th, May, the list of German Innovation Award Winners was published. By virtue of impressive innovation and user benefits, Flexiv Rizon has been honored with the award in the Electronic Technologies category of "Excellence in Business to Business" contest class. Meanwhile, Flexiv is one of the few non-German winners.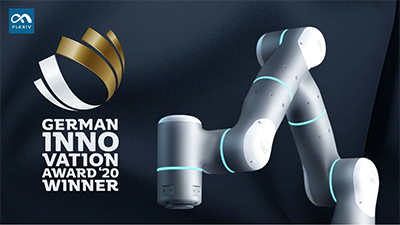 There are over 700 entries from all over the world for the German Innovation Award 2020, which have shown newly rising entrepreneurs' innovation capacities towards the digital future. The current global transformation is forcing companies to rethink technology, digital tools and processes, the German Innovation Award supports companies on their way by making successful innovations visible.
The jury is made up of independent, interdisciplinary experts from industries of media, design, innovation, science, intellectual property, and so on. "This way we guarantee an individual, neutral and professional assessment," emphasizes the jury Chair & Managing Director of the German Design Council Lutz Dietzold. The evaluation criteria include not only the products' level of innovation but also user benefits and cost-effectiveness. The innovation strategy should take into account aspects such as social, ecological, economic sustainability, and the use of energy and resources.
Rizon fuses high-performance force control, computer vision and AI technology, can achieve flexible 'hand-eye' coordination with the help of 7degrees of freedom, embedded computer vision module, and proprietary force and torque sensing technology. Based on this, Rizon provides orders of magnitude improvement over state-of-the-art products on accuracy, robustness and cost, and has been acknowledged by the German Innovation Award jury on the innovation level, user benefits and effectiveness.
Due to COVID-19, the originally planned awards ceremony of German Innovation Awards cannot take place. However, the winners still can be found and viewed on its official website.
About German Innovation Awards
Launched by the German Design Council with the vision of 'make innovation visible', the German Innovation Awards aiming at honoring products and solutions with extraordinary innovation and long-lasting influence. With a history of 66 years, the German Design Council is one of the nation-level communication and promotion organizations in the global design field. It aims to make an
important contribution to the transfer of knowledge relating to design and provide supports of brandings and designs to entrepreneurs through its competitions, exhibitions, conferences, seminars and publications. There are two competition classes of German Innovation Awards 2020: and ; in addition, the winners are determined in the additional category .
About Flexiv
Flexiv Ltd. is a global leading robotics and AI company, focusing on developing and manufacturing adaptive robots which integrate force control, computer vision and AI technologies. Flexiv provides innovative turnkey solutions and services based on Flexiv robotic systems to customers in multi industries. The company started in 2016, with core founding team from robotics and AI laboratories at Stanford University, and has established offices in Silicon Valley, Shanghai, Beijing, Shenzhen and Foshan by now.