Flexible LoadWorld Robotic Solution for Machine Tending Improves Productivity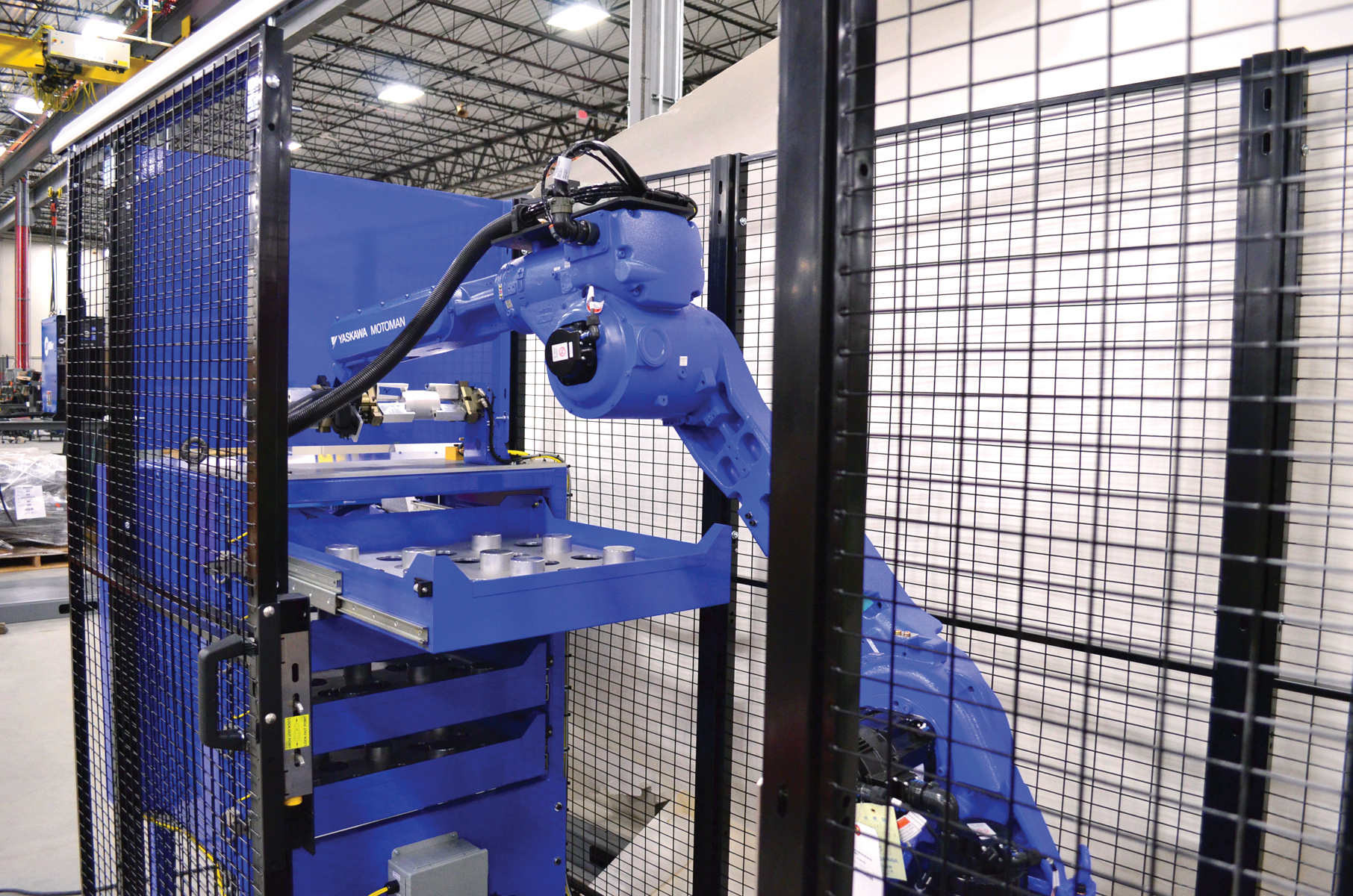 Dayton, OH — LoadWorld® is a pre-engineered standard robot solution for machine tending that can be integrated with new or existing machines. It is ideal for high-production or job shops with smaller lot sizes. These flexible cells include a Motoman® robot, plus many options for standard grippers, conveyors, part positioners, pallet floor locators, part cleaners and markers. LoadWorld is designed to work with a wide range of Motoman robots with payloads from 20-200 kg, including the unique 7-axis SIA20D.

Robotic automation of the machining process improves productivity by reducing loading/unloading time; more parts are produced in less time due to improved spindle utilization. LoadWorld can even continue to produce parts during breaks or off-shift periods. Part quality is also increased due to consistency in the loading/unloading process. LoadWorld can improve worker safety by reducing lifting and repetitive motion injuries.

LoadWorld includes a four drawer fabricated steel part stocker. Multiple drawers allow the operator to load and unload parts from one drawer while the robot continues to work on another. Having four drawers provides the flexibility to run the same part, or each drawer can be configured for a different part. The drawers can be outfitted with tooling, or used with a MotoSight™ 2D vision system to add flexibility and reduce tooling cost.

MotoSight 2D, a powerful 2D vision application, uses Cognex EasyBuilder® vision programming tools to easily add vision to a Motoman robot. It features a Cognex In-Sight® Micro camera and Yaskawa Motoman's Pendant Vision application software. Using MotoSight in a machine tending application provides the flexibility to reduce tooling cost by using vision to locate the parts, and can also be used to identify parts and/or perform quality control functions.

At IMTS 2012, a LoadWorld system will include the new Robotiq 2-Finger Adaptive Gripper to enhance its flexibility. The gripper along with other technologies will enable a high-mix, low-volume machine shop to successfully automate and reduce costs.

About Yaskawa Motoman
Founded in 1989, the Motoman Robotics Division of Yaskawa America, Inc. is a leading robotics company in the Americas. With over 230,000 Motoman® robots installed globally, Yaskawa provides automation products and solutions for virtually every industry and robotic application; including arc welding, assembly, coating, dispensing, material handling, material cutting, material removal, packaging, palletizing and spot welding.

About Robotiq
Robotiq is a robot components manufacturer based in Quebec City, Canada. It is a privately funded company founded in 2008.