Flexible and Energy-Efficient Handling of Wooden Parts
No matter how powerful robots or linear and portal handling systems may be, they are not productive manufacturing aids until they are equipped with the right gripper.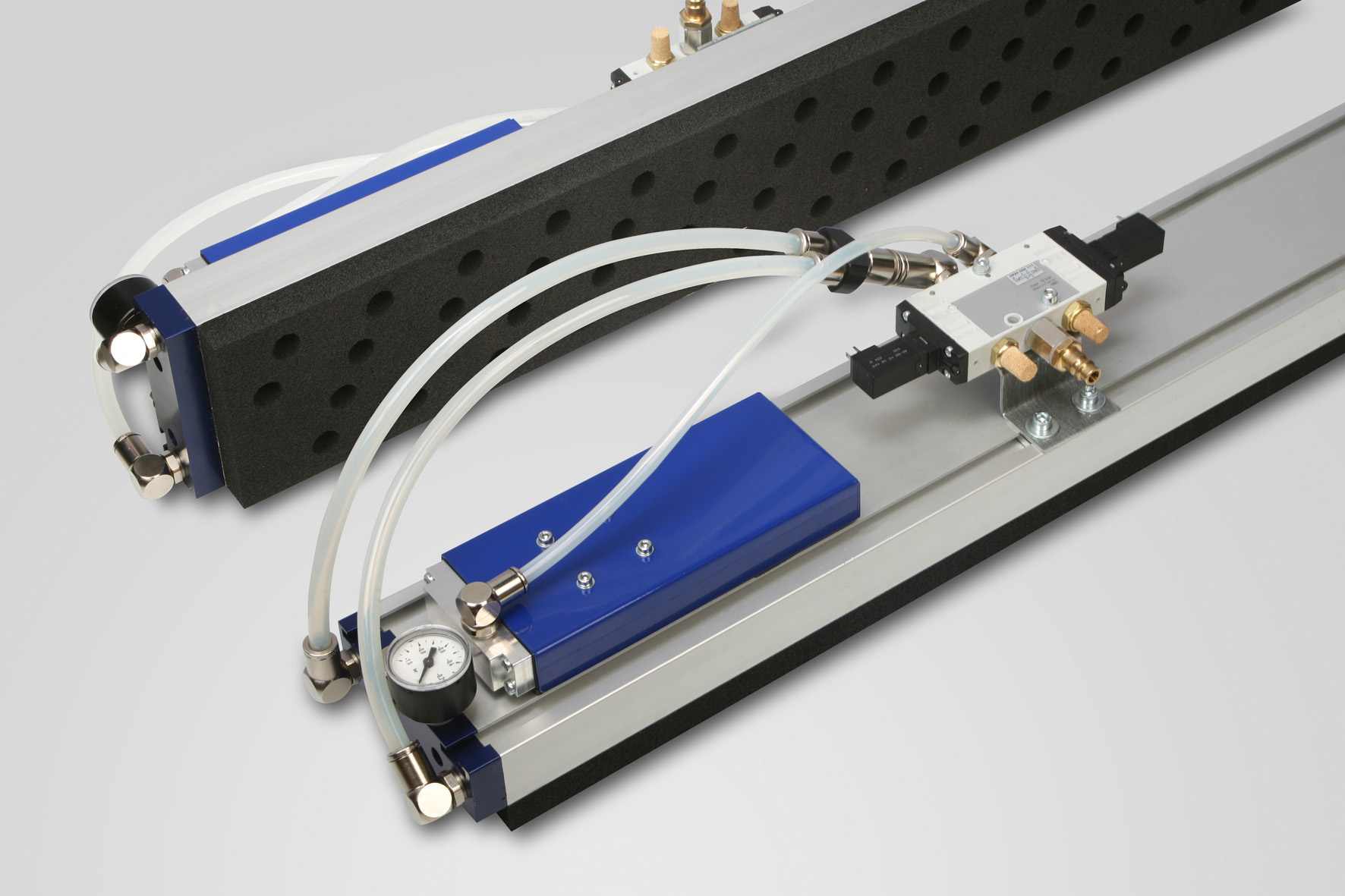 Schmalz, the global vacuum specialist, has developed an innovative large-area gripper, especially designed for handling wooden parts, such as timber, moulding, profiles, etc. It is available with either a directly attached pneumatic vacuum generator (FXC-HD large-area gripper) or with an external vacuum generator (FMC-HD large-area gripper). The design of the two grippers differs in regard to the connection piece for the external vacuum generator and the FMC-HD's lower height. The large-area grippers consist of a basic body made from extruded aluminium sections with integrated valve technology, a vacuum gauge, an end cover with a function module for the "sensor" and the "blow-off" connections, a sliding block strip that allows for flexible mechanical attachment of the gripper as well as a rugged sealing mat. The sealing mat can be replaced quickly; its various grid patterns make it suited for use with differing widths of workpieces. The sealing mat is optionally available with an integrated, self-cleaning filter screen mat that protects the gripper from soiling.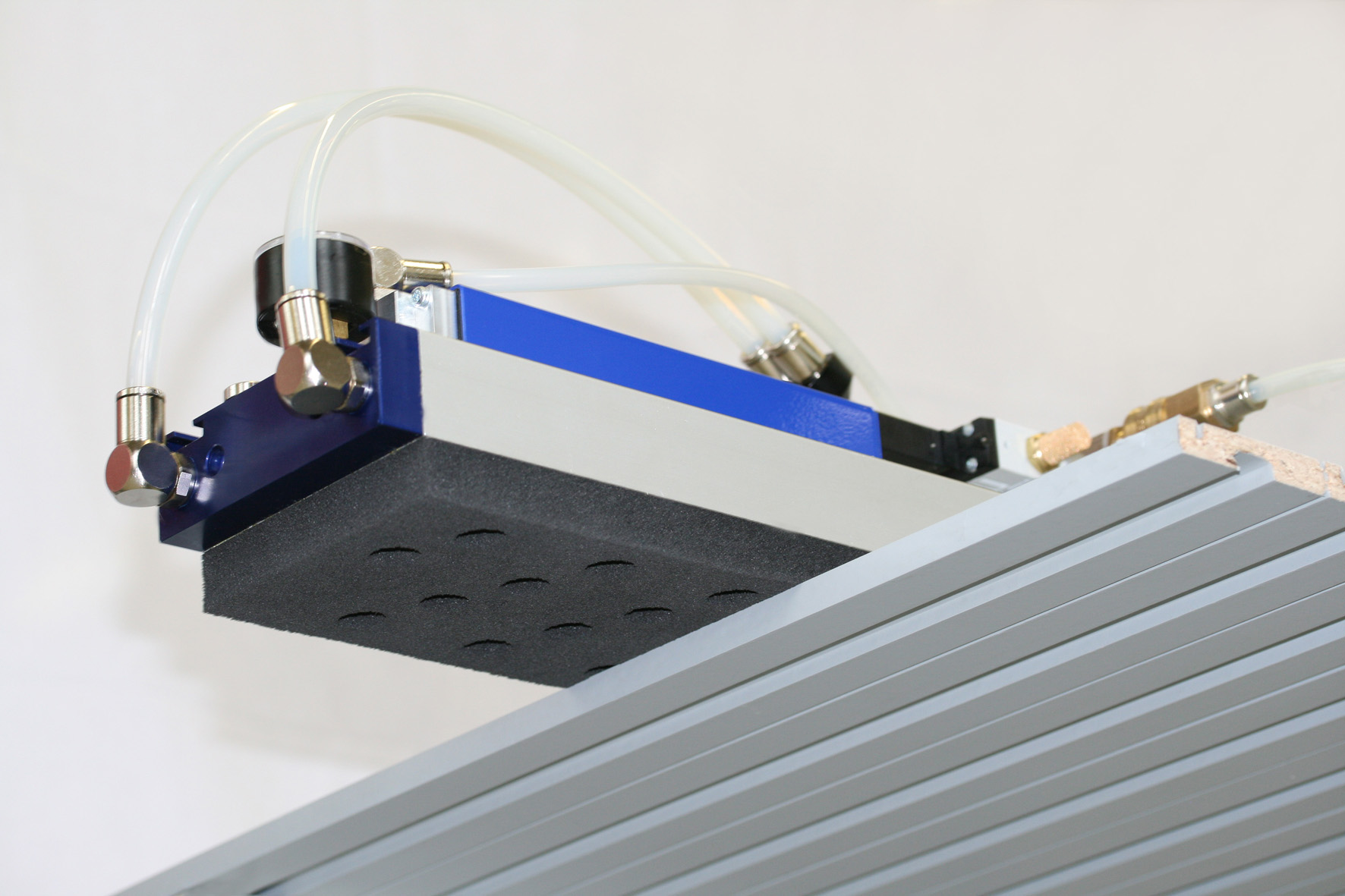 Energy-saving and cost-efficient automation
Both gripper models are fully equipped units that can be connected immediately. They are flexible and easy to adapt to robot systems, linear portal systems or even to large-area portal systems By design, they fit right into an energy-saving and cost-efficient automation scheme: the gripper's interior chamber is optimised for a small evacuation volumes. Not only does this reduce the amount of compressed air that is used, resulting in lower operating costs: reduced CO2 emissions make it better for the environment. Because the chambers and check valves for the suction and blow-off functions are separate, items can be set down quickly, using less power. This results in short handling cycle times. Handling processes can by executed dynamically, as quickly as possible, using energy efficiently.

Flexible in application
As mentioned above, FXC/FMX-HD large-area grippers can be used to handle wooden as well as plastic parts with an extremely wide range of dimensions. The grippers can quickly and reliably pick up workpieces from both defined and undefined positions and reproducibly deposit them exactly where needed. The workpieces may have either a solid, smooth surface or be uneven and have various contours. Not only can the grippers be used to automatically palletise or depalletise blanks, flat products, components and furniture elements, they can also be used to sort and pick items such as windows, doors and pieces of furniture. Even handle layers of profile strips and individual large workpieces can be handled – just a single universal large-area gripper is all that you need for all of these applications.

Schmalz is the leading supplier of Vacuum Automation Components as well as Robotic and Gantry style Vacuum Gripping Systems. Schmalz supplies modularly constructed area and layer vacuum grippers for flexible handling of varying material properties, configurations and shapes - such as non-rigid cardboard boxes, plastic film and porous materials. Schmalz grippers can handle varying dimensions and undefined positions. The product range of Vacuum Components includes suction cups in (11) standard materials and cup lines for special industry needs, e.g. Automotive cups or cups for the Packaging industry. The product range also includes vacuum generators, mounting elements and system monitoring devices. Schmalz, founded in 1910 in Germany, is family owned and operated in third generation. Schmalz is one of the few positive-energy companies worldwide and has been rewarded for its sustainability several times. Schmalz is DIN ISO 9001 and DIN ISO 14001 certified for more than 10 years.

Schmalz Inc., founded in 1999, is the US-subsidiary of Schmalz. Located in Raleigh, NC, Schmalz Inc. has its own outside sales force and Authorized Schmalz Distributors in all states. Schmalz Inc. is committed to provide an outstanding and timely service nationwide.

Schmalz Inc. | 5200 Atlantic Avenue | Raleigh, NC 27616 | (919) 713-0880 | schmalz.com