Flea3 FL3-GE Series - World's Smallest GigE Cameras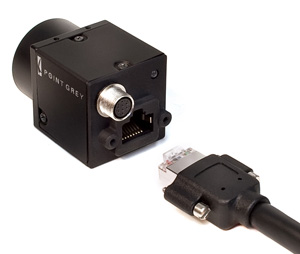 Point Grey, a world leader in advanced digital imaging products, today announced the launch of its new Flea3 FL3-GE series of GigE Vision digital cameras.
The Flea3 GigE camera series sets a new industry standard with an ultra-compact size of just 29 x 29 x 30 millimeters, making it the world's smallest Gigabit Ethernet camera. The first available models use monochrome and color versions of the popular Sony® ICX445 CCD, a high sensitivity 1.3 megapixel 1/3-inch EXview HAD image sensor that runs at 30 FPS. The Flea3 offers superior imaging performance, unbeatable price-performance, and a host of new features, including opto-isolated GPIO for industrial triggering and strobe output, non-volatile flash memory for user data storage, and on-camera frame buffer.
"We are very excited to launch the Flea3 GigE series, which will provide customers with a unique combination of size, performance, and price," says Vladimir Tucakov, Director of Sales and Marketing at Point Grey. Tucakov adds, "Point Grey has a history of bringing innovative and ground-breaking products to market. This drive for innovation has led to many industry firsts, including the world's first and smallest FireWire-b cameras. With Flea3 we're pushing technology boundaries again by providing three different interfaces—FireWire, GigE, and soon USB 3.0—in the same small, ice-cube form factor."
Every Flea3 GigE camera is equipped with an industry-standard C-mount lens holder, removable IR cut filter (color models) / optical window (monochrome models), and a 12-bit analog-to-digital converter. Additional features include automatic control of most camera properties, such as gain, exposure, and white balance; user configuration sets for defining custom power-up settings; gamma and programmable lookup table; customizable region of interest settings; and pixel binning. The Flea3 also complies with version 1.2 of the GigE Vision specification, which allows it to be used with many third-party software packages. Included with every camera is the FlyCapture® SDK, a full software library that provides a common control interface for all Point Grey cameras under both Windows and Linux.
The Flea3 FL3-GE-13S2 (1/3-inch 1.3 MP 30 FPS), list priced at USD $765, is available to order now from Point Grey and its network of distributors. Additional GigE Vision models are planned to be released throughout 2011.
About Point Grey
Point Grey Research, Inc. is a worldwide leader in the development of advanced digital camera technology products for machine vision, industrial imaging, and computer vision applications. Based in Richmond, BC, Canada, Point Grey designs, manufactures and distributes IEEE-1394 (FireWire), USB 2.0, Gigabit Ethernet, and Camera Link cameras that are known for their excellent quality, performance, and ease of use. A broad range of hardware, software and mechanical engineering skills has allowed Point Grey to successfully bring many innovative and ground-breaking products to market. This drive for innovation has led to many industry firsts, including the first and smallest 1394b digital camera.
Since being founded in January of 1997, the company's approach to product pricing, quality control, and customer service has attracted thousands of customers worldwide, and its organic growth through product sales has enabled the company to expand significantly without any outside investment. Point Grey currently employs more than 100 people worldwide, and has a wholly-owned subsidiary in Germany that provides sales and support services to customers in Europe, Africa, and Israel. Point Grey's office in Japan works closely with the company's network of distributors in Japan, Korea, China, Singapore, and Taiwan.