Flea3 FL3-GE-28S4 Camera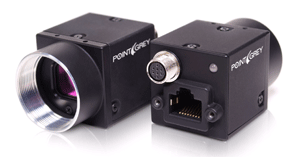 Point Grey, a world-leading designer and manufacturer of innovative, high-performance digital cameras for industrial, life science, and traffic applications, today announced the addition of new 2.8 megapixel models to its Flea®3 line of GigE Vision digital cameras.

Building on Point Grey's extensive experience with Sony CCD technology, the Flea3 FL3-GE-28S4 monochrome and color models use the all-new, highly sensitive Sony ICX687 EXview HAD CCD II™ image sensor to deliver high resolution, high quality images in a compact and low-cost package. Compared to other CCD devices, EXview is known for higher quantum efficiency, reduced smear, and increased near-IR response. The Sony ICX687 builds on the success of the popular ICX274 2 MP CCD by offering more pixels and better sensitivity in the same 1/1.8" optical format.

The FL3-GE-28S4 camera runs at 15 FPS at full 1928 x 1448 resolution, and even faster using smaller regions of interest. The Flea3 measures just 29 x 29 x30 mm – making it the world's smallest GigE Vision camera – and weighs only 38 grams without optics. This combination of resolution, sensitivity and size make these models ideal for applications in factory automation and machine vision; medical and life science applications such as fluorescence and microscopy; and intelligent transportation systems.
Like all Flea3 GigE cameras, the new models offer a host of features unique in their class, including an 8-pin opto-isolated GPIO for industrial triggering and strobe output; 1 MB non-volatile flash memory for user data storage; and on-camera frame buffer for retransmitting images. The Flea3 complies with version 1.2 of the GigE Vision specification, which allows the camera to work seamlessly with software from Cognex, Mathworks, Matrox, MVTec, and NI, as well as with Point Grey's own FlyCapture SDK.
"We are very pleased to be the first to bring a Sony ICX687-based camera to market," says Michael Gibbons, Director of Sales and Marketing. "With these new Flea3 models we have succeeded in combining a small yet high-performance camera with one of the most exciting CCD image sensors on the market today. We have also competitively priced these models to match other similar ICX274-based cameras, giving our customers access to a higher resolution, higher sensitivity camera at a similar price point."
The Flea3 FL3-GE-28S4C-C (color) and FL3-GE-28S4M-C (monochrome) models are list priced at USD $995 and are available to order now from Point Grey and its network of distributors.