First Certified Intel® Industrial Solutions System Consolidation Platform
rong>ADLINK Launches First Certified Intel® Industrial Solutions System Consolidation Platform

Collaboration underscores promotion to Premier membership in Intel® Intelligent Systems Alliance


San Jose, CA – ADLINK Technology Inc., a global provider of embedded building blocks and Application Ready Intelligent Platforms (ARIPs), today announced its Matrix MXE-5301 fanless, embedded computer as the first hardware platform to be certified for the Intel® Industrial Solutions System Consolidation Series. The ADLINK MXE-5301 supports a wide temperature range and offers a fanless and cable-free design, making it uniquely suited for industrial applications. Intel's industrial workload consolidation platform with the MXE-5301 enables the combination of several applications—or workloads—and their respective host operating systems into a single computing solution. What were once multiple, separate systems can now be combined into just one platform using advanced hypervisor technology that allows host operating systems to coexist. For the customer, workload consolidation reduces the number of individual devices, allowing a single, smaller footprint and lowered system and environmental complexity.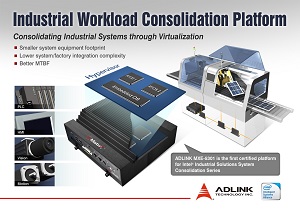 "ADLINK has a long history in industrial automation design. It's exciting to be able to showcase modern software tools and demonstrate how the market will benefit," said Roy Wan, general manager, Measurement and Automation at ADLINK Technology. "We look forward to continuing our work with Intel on this leading effort to build industry-specific application-ready platforms."

"Increasing reliability and reducing complexity on the factory floor are critical needs for industrial automation," explained Jim Robinson, general manager, Segments and Broad Market, Internet of Things Solutions Group at Intel. "Consolidating heterogeneous workloads using hypervisor technology relies on a capable and reliable hardware foundation. The collaboration with ADLINK allows us to introduce deployment-ready platforms that can handle those computing challenges."

In addition to the current collaboration on the workload consolidation program, ADLINK is also proud to announce its promotion by Intel to Premier Member in the Intel® Intelligent Systems Alliance. From modular components to market-ready systems, Intel and the 250+ global member companies of the Alliance provide the performance, connectivity, manageability, and security developers need to create smart, connected systems. Close collaboration with Intel and each other enables Alliance members to innovate with the latest technologies, helping developers deliver first-in-market solutions.

"It's a great honor for ADLINK to achieve the Premier level through more than a decade of cooperation with Intel. We have demonstrated successful global business growth strategies and have led the market with vertical applications based on Intel® embedded architecture," said Jim Liu, CEO of ADLINK Technology. "This level of alliance gives us more and better opportunities to collaborate with Intel on new and emerging technologies, and better serve our customers and partners with advanced platforms."

About ADLINK
ADLINK Technology provides a wide range of embedded computing products and services to the test & measurement, automation & process control, gaming, communications, medical, network security, and transportation industries. ADLINK products include PCI Express-based data acquisition and I/O; vision and motion control; and AdvancedTCA, CompactPCI, and computer-on-modules (COMs) for industrial computing. With the acquisition of Ampro Computers, Inc. and LiPPERT Embedded Computers GmbH, ADLINK also provides a wide range of rugged by design Extreme Rugged™ and Rugged product lines including single board computers, COMs and systems.

ADLINK strives to minimize the total cost of ownership (TCO) of its customers by providing customization and system integration services, maintaining low manufacturing costs, and extending the lifecycle of its products. ADLINK is a global company with headquarters and manufacturing in Taiwan; R&D and integration in Taiwan, China, the US, and Germany; and an extensive network of worldwide sales and support offices.

ADLINK is ISO-9001, ISO-14001, ISO-13485 and TL9000 certified, is a Premier Member of the Intel® Intelligent System Alliance, an Executive Member of PICMG, a Sponsor Member of the PXI Systems Alliance, an Executive Member of the PC/104 Consortium, an initial member of SGeT (Standardization Group for Embedded Technologies), a Strategic Member of the AXIe Consortium, and a member of VMEbus International Trade Association (VITA). ADLINK is a publicly traded company listed on the TAIEX Taiwan Stock Exchange (stock code: 6166).
Embedded Vision
This content is part of the Embedded Vision curated collection. To learn more about Embedded Vision,
click here
.