First Angle Encoders with Mechanical Fault Exclusion on the Market for Functional Safety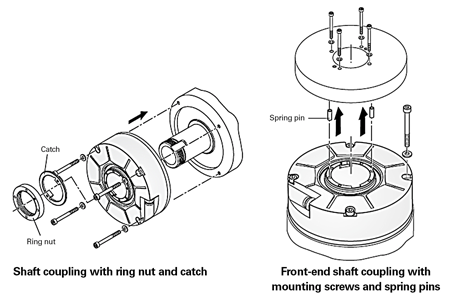 SCHAUMBURG, IL – HEIDENHAIN Corporation is pleased to announce the first and only angle encoders on the market to have a Fault Exclusion for Loosening of the Mechanical Connection. This is a primary prerequisite for encoders meeting Functional Safety standards required for any machines shipped to Europe. Since safety is always a concern for any machine user, now peace of mind can be had, knowing that the encoder won't break loose during proper use.
HEIDENHAIN's angle encoders available with this mechanical connection fault exclusion are its RCN series (2xxx, 5xxx and 8xxx models). The RCN absolute encoders are available both standard and Functionally-Safe Certified.
When the RCN encoders are used within proper speed parameters, temperatures, & angular accelerations - and with the addition of a catch ring or spring pins (depending on the coupling method) - they achieve a positive mechanical connection which helps eliminate the possibility of the encoder loosening and producing false data.
About Heidenhain Corporation
HEIDENHAIN CORPORATION is the North American subsidiary of DR. JOHANNES HEIDENHAIN GmbH, a leading international manufacturer of precision measurement and control equipment. Our product line includes linear scales, rotary and angular encoders, digital readouts, digital length gages, CNC controls, and machine inspection equipment.
Company Contact
Kathleen Stoneski - Public Relations Manager
Tel: (847) 519-4702