FASTSUITE for JENOPTIK – The Perfect Software for 3D Laser Systems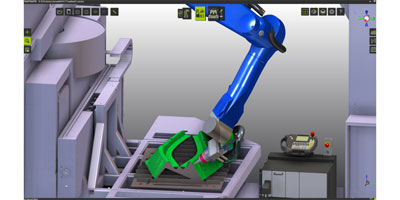 Jenoptik manufactures products and applications across the entire value chain for your laser material processing – from individual components to complex laser systems. The functionalities of FASTSUITE Edition 2 are a perfect fit for these 3D laser systems: FASTSUITE Edition 2 supports the entire process from CAD data import to NC program optimization.
A homogeneous data model ensures that a FASTSUITE installation can be extended to support 3D laser machines perfectly, and also include other processes, such as press line automation and offline robotic programming.
Thus, FASTSUITE unites all aspects of automation technology – robot applications, machine automation, and handling tasks – all in one single software solution.
CAD interfaces to import part and fixture designs
Standard interfaces are included in the base product, such as IGES, STEP and JT. Specific CAD interfaces are available as options to directly load CAD files from CATIA, NX, SolidWorks, Autodesk Inventor, Pro/Engineer and many more.
Quick build-up for prototype fixtures
A sketch-based, template-driven fixture definition with multiple parameters to control plate build-up. The software automatically creates reliefs for cutting contours and weight reductions. An automatic nesting to cut plates on 2D machine or a DXF output of nested fixture is also available.
Toolpath generation and optimization
Powerful and proven CAD-to-path algorithms enable a quick contour programming and provide full support of regshape geometries. Manual teach-in functions (e.g. for pre-positioning and linking motions) are also included. Partial or full simulation of single geometries, geometry groups, and complete programs along with high-performance collision control and issue monitoring, ensure error-free programs. Pre-defined laser parameters and technological events help provide a direct NC output for immediate execution on the machine.