FASTSUITE and Kawasaki Robotics - The Perfect Fit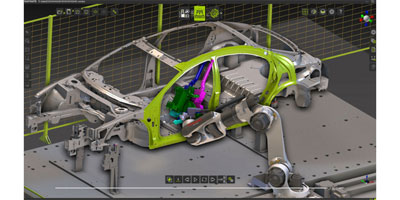 One platform. Endless possibilities.
Kawasaki Robotics is your reliable international partner for intelligent automation production systems. Kawasaki has a wealth of expertise and products in industrial robotics, automation, and offers customized systems for your manufacturing processes in all three system environments.
The functionalities of FASTSUITE Edition 2 offer the perfect complement to these automation solutions: FASTSUITE Edition 2 supports the efficient development, reliable programming and effective optimization of robot cells, special machines and integrated manufacturing cells. A homogeneous data model ensures that all of the functions seamlessly integrate with one another and complement each other perfectly. Thus, FASTSUITE Edition 2 unites all aspects of automation technology - robot applications, machine automation, and handling tasks - in a single software solution.
Intuitive creation and validation
FASTSUITE Edition 2 offers efficient functions for creating and validating automation solutions. In addition to layout creation, it provides the entire infrastructure for process simulation and programming, allowing users to start feasibility studies and layout optimization immediately.
Intelligent handling
Material feeding and parts handling are crucial aspects in most manufacturing processes; including loading and unloading, or transporting parts within the cell. Whether you are implementing an automation solution or have to integrate manual processes, the FASTSUITE Edition 2 virtual environment helps to identify and eliminate potential risks and bottlenecks.
Offline programming for maximum productivity
FASTSUITE Edition 2 offers extensive programming functions for virtually every manufacturing process. To ensure maximum accuracy and quality, the trajectories are computed on the basis of mathematical CAD data. These programming functions are complemented by an intuitive virtual teach-in panel for the quick creation of basic programs, as well as the efficient definition and modification of bypass positions and interactions. Technology packets assist in generating optimized process and application specific programs. Tech packets also help in achieving a consistently high output quality, regardless of the user's experience. Thanks to immediate simulation on the final program code, users can deliver validated programs to the shop floor.
Read more about FASTSUITE and Kawasaki Robotics on CENIT Newsroom.