Fastest SATA 6 Gb/s Industrial Grade Solid State Drives
rong>The ADLINK ASD Series of SSDs is highly reliable, has an extended operating temperature range, and is able to withstand high levels of shock and vibration. ADLINK SSDs are ideal for applications in telecom, defense, medical, industrial automation and transportation.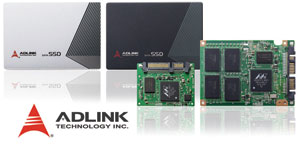 San Jose, CA – ADLINK Technology, Inc, a leading global supplier of industrial and embedded building blocks, will present the ADLINK ASD Series of industrial grade solid state drives (SSDs) at the Embedded Systems Conference Silicon Valley from May 3 to 5, 2011 in San Jose, CA. The ADLINK ASD Series is designed to meet the needs of today's mission critical applications in severe environments and reduce time-to-market for rugged platform integrators who require comprehensive solutions to provide embedded platforms with high availability, performance and reliability. ADLINK ASD SSDs provide a SATA 6 Gb/s (SATA III) interface to match the data transfer capabilities of 2nd generation Intel® Core™ processorbased platforms and have the fastest read/write speeds available on the industrial market. The ADLINK ASD Series offers reliability, ruggedness and extreme performance, allowing ADLINK to provide a complete storage solution for its customers.

ADLINK industrial grade SSDs deliver low latency with less than 1ms access time, power consumption as low as 2 watts, high reliability and high capacity. The ADLINK ASD Series is available in 2.5", 1.8" and JEDEC MO- 297 (Half-Slim) form factors and is designed for use in enterprise, industrial and embedded computing platforms in fields such as defense, telecom, transportation, industrial automation and medical. The ADLINK ASD Series is well-suited for rugged and embedded environments. It supports a wide operating temperature range from -40°C to 85°C and is resistant to high levels of shock (1,500G/0.5msec) and vibration 3.08G (7-800Hz). SSDs have no spin-up time, seek time or rotational latency, resulting in faster system boot and shorter application load time compared to conventional hard drives. To provide additional reliability, ADLINK ASD Series SSDs implement wear-leveling and hardware error-correcting code (ECC), resulting in years of reliable operation with minimal maintenance and a mean time between failures (MTBF) of up to 2 million hours.

"Our customers depend on ADLINK to provide a total solution in a ruggedized format that is able to operate under the most demanding environmental conditions," stated Stephen Huang, Vice President of the Industrial Computing Product Segment of ADLINK. "The ADLINK industrial grade ASD SSD Series provides customers with the high data transfer rates of the SATA 6 Gb/s interface, high reliability and long product life in an industrial grade storage solution. With these advanced features and leading NAND flash controller technology, ADLINK continues to provide customers with high quality solutions and reliable product support. Our new line of industrial grade SSDs meets the requirements of transportation, avionics, factory floor, and other rugged applications with extended temperature requirements."

Built using high speed SLC/MLC NAND flash with Toggle-Mode and advanced controller technology, the ADLINK ASD Series offers high speed performance of up to 470MB/sec sequential read and 385MB/sec sequential write speed (2.5" 128GB SLC). With no moving parts, ASD SSDs are designed to deliver the durability required by portable devices that are frequently dropped or jostled. In addition to the 2.5" form factor, the ADLINK ASD Series offers models in 1.8" form factor with Micro SATA connector and in Half-Slim form factor to provide design flexibility for customers seeking to create next generation ultra-thin rugged devices based on the standard SATA interface. For smoother integration of embedded platforms, the ADLINK ASD Series is compatible with the latest Intel-based platforms. More information on the ADLINK ASD Series of industrial grade SSDs is available at http://www.adlinktech.com/SSD/. Visit ADLINK at Booth 1910, ESC Silicon Valley to experience ADLINK's products in person.

Pricing and Availability
The ADLINK ASD Series are currently available, product descriptions, features and pricing summarized in Table 1 below:




About ADLINK
ADLINK Technology provides a wide range of embedded computing products and services to the test & measurement, automation & process control, gaming, communications, medical, network security, and transportation industries. ADLINK products include PCI Express®-based data acquisition and I/O; vision and motion control; and AdvancedTCA®, CompactPCI®, and Computer-on-Modules (COMs) for industrial computing. With the acquisition of Ampro Computers, Inc., ADLINK also provides a wide range of Extreme Rugged and Rugged Single Board Computers, Computer-on- Modules and Systems under the brand name Ampro by ADLINK. ADLINK strives to minimize the total cost of ownership (TCO) of its customers by providing customization and system integration services, maintaining low manufacturing costs, and extending the lifecycle of its products. ADLINK is a global company with headquarters and manufacturing in Taiwan; R&D and integration in Taiwan, China, and the US; and an extensive network of worldwide sales and support offices.

ADLINK is ISO-9001, ISO-14001, ISO-13485, and TL9000 certified, is an Associate Member of the Intel® Embedded Alliance, an Executive Member of PICMG, a Sponsor Member of the PXI Systems Alliance, and a Member of the AXIe Consortium. ADLINK is a publicly traded company listed on the TAIEX Taiwan Stock Exchange (stock code: 6166).
Embedded Vision
This content is part of the Embedded Vision curated collection. To learn more about Embedded Vision,
click here
.