Fast and precise motion control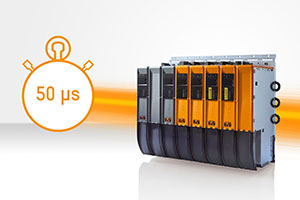 B&R servo drive controls highly dynamic processes with greater precision
With the latest upgrade to its ACOPOSmulti multi-axis servo drive, B&R now enables even shorter cycle times down to 50 μs. Highly dynamic processes can bow be controlled more precisely than ever.
For demanding motion control applications, such as those found in the printing and packaging industries, movements must be controlled very quickly and precisely. The ACOPOSmulti's short cycle time of 50 µs for current, speed and position control opens up new possibilities for virtual sensor technology.
Lag error compensation
Using a virtual motor position encoder eliminates the need for an encoder, encoder cable and evaluation unit in the servo drive and at the same time increases availability. Other special functions for more precise control and faster reactions can be implemented using virtual sensor technology. These include model-based control with autotuning and a repetitive control function for predictive lag error compensation.
B&R's ACOPOSmulti multi-axis servo drive now enables even shorter cycle times down to 50 μs.
About B&R
B&R is an innovative automation company with headquarters in Austria and offices all around the world. On July 6, 2017, B&R became a business unit of the ABB Group. As a global leader in industrial automation, B&R combines state-of-the-art technology with advanced engineering to provide customers in virtually every industry with complete solutions for machine and factory automation, motion control, HMI and integrated safety technology. With Industrial IoT communication standards like OPC UA, POWERLINK and openSAFETY as well as the powerful Automation Studio software development environment, B&R is constantly redefining the future of automation engineering. The innovative spirit that keeps B&R at the forefront of industrial automation is driven by a commitment to simplifying processes and exceeding customer expectations.