FANUC Series 30i/31i-L Model B High-speed Laser Controls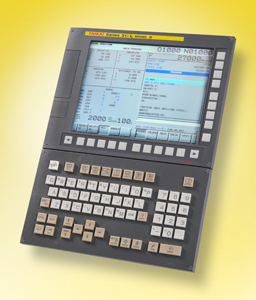 FANUC America Corporation - FANUC CNC Series 30i/31i-L MODEL B high-speed laser controls offer fabricators streamlined efficiency and increased productivity using Ethernet and Ethernet/IP™ field bus options and newly supported FANUC NCGuide simulation software.
Integration of the FANUC Series 30i/31i-L MODEL B CNC and robots to cell controllers, using Ethernet and Ethernet/IP™ field bus options, makes it easy for fabricators to now manage operations across equipment controlled by various systems. This solution directly addresses today's fabricator challenges of increasing complexity of machine systems, new safety and security requirements, and the growing importance of information technologies.
As a result of the release of Ethernet/IP™ field bus connectivity for FANUC Series 3xi-B CNCs, FANUC now furthers our commitment to open interconnectivity of our CNCs in fabricating. Utilizing new standardized field bus architectures (Ethernet and Ethernet/IP™) will streamline system integration and data sharing. This provides fabricators cost efficiencies, reduced setup, better part quality, safer work environments, usable manufacturing intelligence and overall increased productivity.
The Series 30i/31i-L MODEL B CNC has an embedded Ethernet interface, allowing the user to integrate the CNC system into a company network for data collection or for high-speed part program transfers. World-wide links can be set up via the Internet making remote diagnosis, maintenance and online training even more seamless and efficient. Because the integrated Ethernet interface does not use a public operating system, it is practically "hacker-free" and immune to viruses, providing a safe and worry free connection to business networks.
Contributing to additional productivity gains, FANUC's NCGuide simulation software now supports Series 30i/31i-L MODEL B CNC. NCGuide provides a realistic operation and part programming environment at a fraction of the cost of using a production machine tool. The team of designers, operators and maintenance personnel can work efficiently to develop and perfect their understanding, while production on the shop floor is not interrupted. This translates into increased performance and productivity.
Accessing CNC functions on a PC is an ideal testing or learning environment with lower development and training costs than on a machine. NCGuide provides a safe environment to optimize programs on the PC and keeps the machine in the shop in production. OEMs can move fluidly between development and design. Ladder development and troubleshooting can be done as they test cycles via NCGuide. In addition, once a system is on location, end-users can build confidence and shorten learning curves for newer team members as the tools emulate the CNC exactly. Conventional G-code programming, including canned cycles and custom macros, and FANUC's conversational programming MANUAL GUIDE i are supported.
About FANUC CORPORATION
FANUC CORPORATION, headquartered at the foot of Mt. Fuji, Japan, is the most innovative manufacturer of Factory Automation, Robots and Robomachines in the world. Since its inception in 1956, FANUC has contributed to the automation of machine tools as a pioneer in the development of computer numerical control equipment. FANUC technology has contributed to a worldwide manufacturing revolution, which evolved from the automation of a single machine to the automation of entire production lines. FANUC is committed to developing efficient, reliable and innovative products.
About FANUC America Corporation
FANUC America Corporation provides the most complete range of industrial automation equipment including robots, CNCs and motion control systems. FANUC's innovative technologies and proven expertise help manufacturers in the Americas maximize efficiency, reliability and profitability.