Family of Ethernet-ready Encoders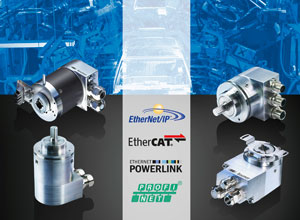 For industrial automation applications, Baumer offers a family of Ethernet-ready encoders designed to interface seamlessly with EtherCAT, Profinet, PowerLink and Ethernet/IP controllers. The Baumer line also includes "power over EtherCAT" encoder products that require only a single cable for data exchange and power supply.
The Baumer product portfolio supports all common industrial Ethernet interfaces and includes shaft or hollow-shaft configurations. Magnetic or optical sensing technologies are available along with single- and multi-turn capabilities. Magnetic encoders are optimally suited for applications in harsh, dusty or damp environments and are capable of withstanding exposure to high shock (300 G's) and high vibration.
Optical absolute encoders provide highly accurate motion feedback data with single turn resolutions to 18 bits and multi-turn capabilities up to 31 bits. These highly versatile units feature a modular bus cover that can remain live even if the base encoder is de-coupled from the bus cover. Baumer Ethernet-ready encoders are used in a wide range of automated applications including metal processing, laser cutting, packaging, material handling, lumber/wood processing and other industrial process control applications.
The Baumer Group is a leading international manufacturer of sensors and system solutions for factory and process automation. In 2012, the innovative family-owned company employs about 2,500 people worldwide in 36 locations and 18 countries. The long lasting success is built on high customer focus as well as the innovative and diversified product range of the product segments Sensor Solutions, Motion Control, Vision Technologies, Process Instrumentation, and Gluing Systems.