Familiar Faces with New Roles at Edgewater Automation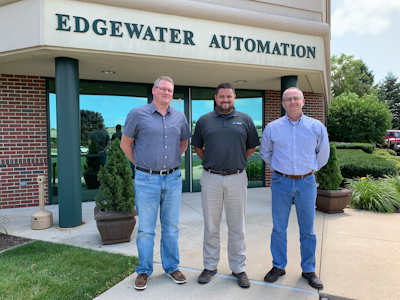 Saint Joseph, MI: Today, Edgewater Automation, a global custom automation equipment supplier, announced new roles for a group of employees:
Tim Tate was promoted to be the Managing Director for the two Edgewater Automation facilities in Michigan: Saint Joseph and Buchanan. During Tim's Senior year at Bridgman High School, he attended the MT3 Training Program at Weldun International, where he learned to run Bridgeport's, Grinders and Lathes, ultimately leading to machine assembly where he helped build an automated Ice Cream Sundae Maker. After graduating High School, Tim entered the 4-year Apprenticeship Program at Dane Systems in 1995 and worked as a Journeyman Machine Builder. After 12 years, Tim went to work for Edgewater Automation as a Machine Builder, and was promoted to Project Manager, and then to Director of Manufacturing. Tate has now been with Edgewater Automation for over 13 years. He is a resident of Baroda, MI where he lives with his wife, Jami and two daughters, Savanna and Graci.
Taking the Director of Manufacturing role is Jim Mercier, who has been working in Purchasing at Edgewater Automation for over 8 years. Mercier has been in the Tool & Die industry for 30 years, working the last 21 in the Automation sector. Mercier resides in Bridgman, MI with his wife and has 3 grown children with 5 grandchildren (plus 1 on the way).
The Purchasing position left by Mercier is being taken on by Todd Tanksley, a Journeyman Machine Builder who has worked at Edgewater Automation for 6 years now. Tanksley has over 23 years of experience as a Machine Builder under his belt. He lives in New Buffalo, MI with his wife and has 4 children, with his daughter Ashley recently signing on for a 4-year Apprenticeship Program at Edgewater.
Founder and President, Rick Blake, said: "We are pleased to announce these changes and are confident in the experience and leadership these talented employees continue to add to our company." These new roles show the strong career opportunities available in the thriving manufacturing industry throughout Southwest Michigan. Edgewater Automation has been putting effort into promoting awareness of careers in manufacturing by offering Apprenticeships, Internships, Job Fairs, Manufacturing Day events, Manufacturing & Schools Working Together Tours, sponsoring FIRST Robotics teams, and more. A growing company, Edgewater Automation is always looking to add talented individuals to their teams across their Michigan facilities.
About Edgewater Automation
Founded in 2001, Edgewater Automation designs and builds custom automation equipment for a wide variety of industries. Edgewater Automation installs and supports equipment globally with 4 locations in North America and as a member of the Manders Group, has 5 different partner companies across Europe and Asia. Featured four times on the Inc. 5000 list of fastest-growing companies in America, Edgewater Automation is constantly improving and growing in experience, talent and technology.