EyeVision Parallel Processing, Deep Learning with VECID and 3D Inspection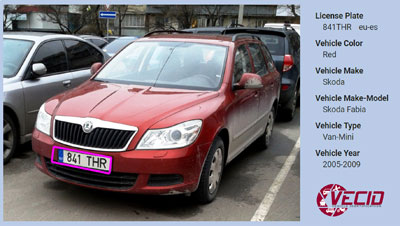 The EyeVision software is a machine vision software with a graphical user interface, where the user can create inspection programs with drag-and-drop programming. EyeVision has commands to solve every image processing application, such as e.g. pattern matching, object detection/counting, 3D and color inspection, code reading (bar code, QR, DMC), OCR/OCV, robot guidance, bin-picking, metrology, thermal imaging, etc.
EVT has now also available Deep Learning (EV DL) for recognition of number plates and the make and model of cars, which is called VECID. The identity of vehicles is learned by convolutional neural networks, which are already pre-trained. VECID can tell you exactly, which type of car just passed through the gate of the car park and read the number based on the trained CNN, which saves you all the nuisance of configuring a conventional OCR reader system.
You might also be able to see the new RazerCam LS – The intelligent Line Scan Camera – with FPGA processing, DualCore ARM Cortex, Power over Ethernet (PoE), USB and GigE interfaces, etc.
EVT will show its EyeVision Software with its new parallel processing function and the EyeVision 3D commands for bin-picking, weld seam or adhesive bead inspection, etc.
EyeVision Parallel Processing allows to run multiple runtimes with a several numbers of 2D cameras and 3D sensors with each separate inspection program at once at the same time and, whats more, with only one computing unit and EyeVision software. Given the appropriate computing capacity (meaning at least a DualCore processor) the system will allow a faster processing, which uses up less space and is more cost-effective as it saves additional hard- and software costs.
Then of course there will be the EyeVision 3D on display. With the bin-picking command of EyeVision 3D it is possible:
to recognize the shape and position of any object, which has been trained previously.
to locate unsorted parts in a box and pick them up with a robot gripper or similar.
send the position of each detected part in the box to a robot.
With the EyeVision 3D ProfileMatch command the EyeVision 3D software can scan profiles, measure them and check for errors on those profiles, such as holes or warts on weld seams and adhesive beads.
ProfileMatch features:
detects a profile, shape or pattern, which has been trained
can be used for inspections of weld seams and adhesive beads
recognizes the profiles, even when the height does not match
detects cracks, holes, warts, lack of fusion, etc.
The 3D Unrolling command of the EyeVision 3D software straightens 3D point clouds images of tilt-scans, or respectively "unrolls" them:
a tilt-scan means that a laser triangulation sensor is rotated
Embedded Vision
This content is part of the Embedded Vision curated collection. To learn more about Embedded Vision,
click here
.