EyeVision Now with Windows 8 Support and Revised GUI
nt size="2">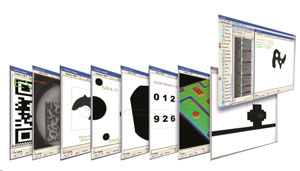 The EyeVision image processing software by EVT has a new face: the revised graphical user interface (GUI) is now even clearer arranged and more graphically intuitively designed. For EyeVision beginners as well as for advanced users the new design of the user interface offers a formidable improvement for the creation of inspection programs, which is as usually achieved by the drag-an-drop function.

And there is another noteworthy innovation: the EyeVision software now also compatible with Windows 8. Therefore image processing solutions can be created with the EyeVision software with even the newest Windows operating system with only a few mouse clicks and on every new purchased Windows system.

The EyeVision software, which sums up the complexity of the classical machine vision in only one intuitively operable graphical user interface, offers a function library, with which inspection programs can be programmed freely, to all types of users – to the image processing beginner as well as to the advanced user. To create an inspection program the user only has to drag one of the commands, which are put into icons, from the toolbox into the graphical program editor.

Therefore even complex applications are solved easily with the EyeVision systems. There are numerous different and ready-made tools at hand, such as e.g. commands for measurement technology such as calculations of circles, cross sections or distances as well as straight lines and angles. The commands can be inserted in the desired sequential arrangement in the program flow by drag-an-drop function.

As already known the programming takes place in the abstract concept of the user, so that even user without previous knowledge of image processing can work with the EyeVision system self-consistent. Additionally for the advanced user the script-interpreter function has been added so that own functions can be programmed.

Furthermore EVT offers beginner seminars for prospective users at the EVT headquarter free of charge.