EyeVision Now Supports the EyeSpector Z Smart Camera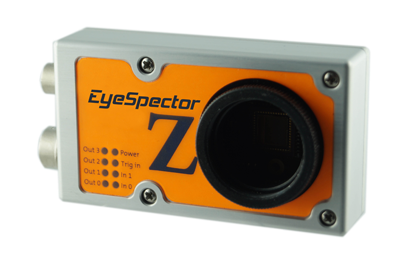 The EyeVision 3.2 image processing software by EVT is now also available for the EyeSpector Z series. The smart camera contains the Standard version of the software, but the command set can be extended to contain more commands according to the needs of the customer.
The hardware features of the EyeSpector Z series are for example 1/4" and 1/1.8" CMOS sensors and a frame rate of up to 120 fps. There are 5 different CMOS sensors available for the customer, such as from CMOSIS, Aptina or e2v. Concerning the resolution it ranges from 752 x 480 pixel to 1920 x 1200 pixel.
The smart camera runs with a Linux operating system and besides the integrated FPGA it offers a dual-core ARM with 2 x 866 MHz.
There are two different housings available. Number one is the already well-known EyeSpector nano-housing and number two is a special housing solution with protection class IP67 and M12 connectors. The EyeSpector pro Z series can on customers demand also be delivered with integrated lens and high power LED lighting.
To increase the performance of the EyeSpector Z a FPGA can be programmed additionally. In comparison to not using the FPGA, a 10 times higher operating speed can be reached.
EVT also offers other smart cameras with a freely programmable FPGA such as the RazerCam, EyeCheck 4xxx and also the EyeCheck 7xxx series.