EyeVision 3.0 Software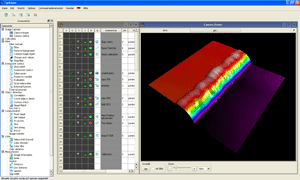 In contrast to manual inspection by trained employees, the automatic visual inspection systems always work objectively based on individual criteria and are not influenced by the condition of the employees.
The optical control secures a certain quality standard of e.g. weld seams.
At the weld seam inspection the new EyeVision 3.0 software keeps record, as already known from previous software releases, of all inspection results for further processing. Additionally deviations from the welding process can be detected and eliminated early in the production, without negative consequences for throughput, production or quality.
The systems includes a sensor and a powerful computer with the evaluation software. It captures 3D data that can be used to derive a quality claim objectively based on the measured values.
The following metrical properties are tested: seam position, seam height, seam volume, seam width and length, as well as weld-specific features such as throat thickness, seam binding, edge notch, consistency in length and end craters. The object is also examined for pores, seam irregularities and weld splatters.
The computer unit processes the weld seam images using evaluation software EyeVision 3.0 and depicts the inspection results visually on a display. Also the user has the possibility to display the results with EyeMultiview, where up to 16 result windows can be displayed at the same time.
In addition the EyeVision 3.0 allows that even weld seams that are close together to be inspected clearly and reliably. Information on the size and position of the defects is recorded in a protocol that can be used for tracing and process optimization.
As hardware EVT reccommends the EyeScan SR 3D with a measurement resolution of 100 μm lateral and 10 μm vertical. The scan frequency is 500 Hz max.