EyeVision 3.0 at the Production of Credit Cards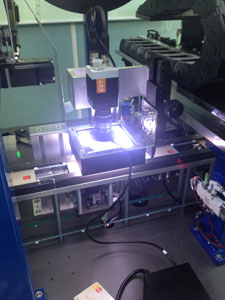 The EyeVision 3.0 image processing software is very flexible concerning its application possibilities. Therefore it is also applied at the production of credit cards. In the current case the BLOB command (object counter) is used.
When manufacturing the cards, IC chips must be attached to the card properly using solder paste. The paste is dispensed to the cards at two positions and they must maintain certain amount and shape.
Our vision system inspects, if the sufficient amount of the paste is dispensed and checks if they are positioned at the right places.
Nowadays the BLOB analysis can be used for many applications with time-consuming calculations. It can thereby also exclude connected regions on the base of their area characteristics, which are not of interest. Also statistic informations can be determined, such as e.g. the size or number of BLOBs, position and presence of BLOB regions.
For this reason, many visual inspections can be carried out such as e.g. the detection of contamination, cracks, scratches and holes and further defects on surfaces such as wood, foile, wafer, paper, etc. The Object Counter of the EyeVision software is used for example at the production of ice cream sugar cones, for detecting flaws in coatings and at the production of air conditioners in the automotive industry.
But the functionality of the EyeVision software stays the same no matter which hardware platform is used. It can be smart cameras, vision sensors or PC-based systems. The user interface stays the same. This means that even when different platforms are used, an extensive training of the personnel is not necessary. In addition, there is the "Process Mode" of the software, which can be used to create operating displays for the personnel and can even be adapted to individual requirements.
All this is possible due to the drag-and-drop function of the EyeVision software, where the user does not have to have programming skills.