EyeSens TPI (Turned Part Inspection)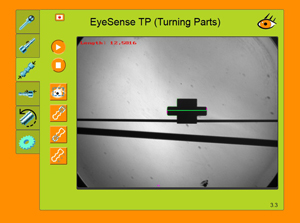 EVT presents the new vision sensor EyeSens TPI (Turned Part Inspection) for the efficient inspection of turned parts. With this vision sensor micro defects on different small sized turned parts can be detected and the bad parts can be sorted out of the production line. Because greate demands are made on those millions of turned parts such as e.g. in the automotive industry. Even just a few micrometer difference of the profile depth have to be recognized.
The EyeSens TPI not only inspects the surface for cracks, scratches or blowholes, it can also measure for example the overall length, angles, tip diameter, etc. In addition to this characteristics it can also be checked if the inside thread is present or not. Therefore the customer has the turned parts move by on a rotating glass plate. The images of the parts, which are light up by a transmitted light, are then captured when the parts "fly by".
The EyeSens TPI consists of a efficient hardware: the Vision Sensor is available as CCD and CMOS version with a resolution of up to 2448 x 2050 pixel. The possible frame rate is up to 104 Hz. Additionally the EyeSens camera has a 1 GHz CPU and runs with a Linux operating system.
The system also contains an easy-to-handle web interface, which serves as user interface for the image processing software. It is based on the EyeVision software by EVT and provides ready-made programs. With a common web browser these programs can be configured. There are commands for measuring length and width as well as diameter and angles on the turned parts. The commands can be extended on customer request.
When using the EyeSens TPI it is not necessary to install a complex software on the PC or tablet. The user only has to type in the IP address of the camera into the web browser to configure the inspection programs. And even there the configuration process is prepared self-explanatory with icons. The user can with various icons configure the prefabricated programs according the object – a turned part in this case.
For the development of the EyeSens for the inspection of turned parts special conditions in the industrial environment has been taken into consideration. The system can be operated from a space-saving touch screen such as the EyeDisplay. And on customer request EVT provides a wide range of evaluation and analysis tools.