EyeSens ProfileInspect
The

dimensions or even the complete cross-section of profiles and pipes made of metal, plastics or rubber must be continuously measured and monitored in the manufacturing process. The EyeSens ProfileInspect system by EVT represents an accurate and economical solution for the problem.

Measuring merely 140 x 70 x 35 mm, its housing includes an intelligent camera and a line laser with a 5 mW performance which enables the real-time recording of images at a scan rate of up to 400 Hz according to the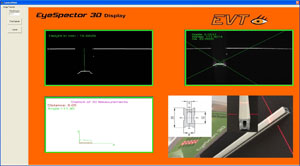 triangulation method. The images can be analyzed by the DSP processor of the Smart Camera which has a computing power of 5,600 MIPS.

This first intelligent lasertriangulation sensor in the world is ideal for the continuous recording of cross-sections of running through profiles, such as e.g. extrusions at the production of plastic or other semiliquid and hardenable materials, which have a constant cross-section over a considerable length but also foils or hoses, of any length and which are wound up on spools.

The integrated – and by the EyeSpector systems already known – image processing software by EVT guarantees, that the geometry of the products is inspected and monitored continuously already during the production. The command set, which is based on the EyeVision software guarantees, that all relevant dimensions such as e.g. angles and radii are displayed and the tolerances monitored.

Additionally, with the EyeMultiview tool the user has the possibility to have the inspection results displayed on up to 16 result-windows on a single monitor. Also all image and result data, which are transferred by the EyeView protocol can be saved with additional data onto a processor, which is connected to the Ethernet. The user is then able to oversee the complete production on only one monitor.