EyeSens Pin1
Complete system for Pin-1-Position recognition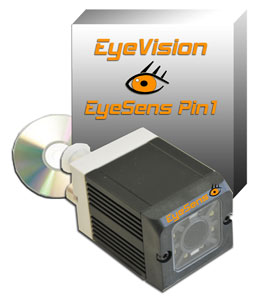 The industrial image processing is increasingly used for the quality management for the production of SMT components. Image processing is a formidable tool for carrying out inspections and monitoring. On the way to a zero-defect-production the usage of industrial image processing is inevitable.
Therefore EVT presents the new EyeSens vision sensor series, which combines a powerful sensor with selected commands of the EyeVision image processing software. EyeSens Pin1 is especially equipped for recognizing the Pin-1-Position and also for inspecting the electronic component if it is OK or NOK.
With a vision sensor such as the EyeSens Pin1 the user is able to check for the selected characteristics of a component part with only a few mouse clicks. In case the component parts are moving, it can be compensated with a position adjustment command. With only a few adjustments the vision sensor can tell good from bad electronic parts.
The individual electronic parts can be corrupt due to a hardly visible damage and therefore useless for the insertion of components in a PC board. So the components have to be thoroughly tested, to be sure that the functionality is guaranteed.
The EyeSens Pin1 sensor is the ideal tool for a fast and precise inspection of electronic parts.
Additionally the EyeSens vision sensors are equipped with an integrated lens with either 6, 12 or 25 mm focal length and an integrated illumination of 8 LEDs.
What is new to the EyeSens system is the extended selection of resolutions: the EyeSens sensors are not only available with a resolution of 782 x 486 pixel, but also with 1024 x 768 pixel (EyeSens HR) and with 1280 x 1024 pixel (EyeSens XHR).