EyeSens ObjectCounter at the Production of Condoms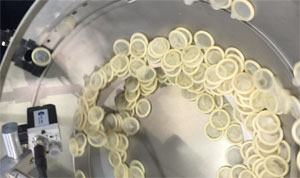 The applications for the EVT products – especially the EyeVision software – is manyfold and often seemingly complex tasks are solved with simple commands from the software, such as the "Object Counter". Also in the following example, the inspection of production and packaging of condoms.
Condoms are not only a product where hygiene and quality are essential, but sometimes there are also characteristics, which requires special inspection systems, such with the following condom producer.
The EyeSens vision sensor with the EyeVision software is used at the production of the world's largest condom manufacturer since 2005. The company built a new factory in China in addition to its main plant at home to produce 1.15 billion condoms a year.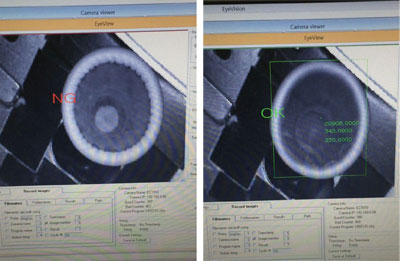 They now export their products to more than 80 countries through international organisations such as the World Health Organisation (WHO) and the United Nations Funds of Population Activities (UNFPA).
The condom application uses the EyeSens ObjectCounter – a vision sensor with specialized command set, including the BLOB command of the EyeVision software. The command has to define if the condom is packaged with the right side up. Because this specific condoms are applied with a treatment that delays the ejaculation. It is required to apply the treatment to the correct side, otherwise the treatment is applied to women. The EyeSens system decides the correct side of the condom to serve this purpose.
Company Contact
Klara Steinschneider
Tel: +49721 668 004 23(0)