EyeSens CC (ChipControl)
rong>the vision sensor for the electronic industry with integrated webinterface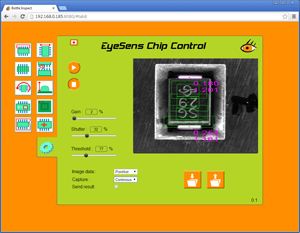 For the production of semiconductors or electronic components, a thorough quality control is essential. EVT offers with the EyeSens CC (ChipControl) a compact and easy-to-handle system for the inspection of electronic components. Key feature are the ready-to-use inspection programs, for which the user does not need any programming skills.

This, especially for the semiconductor and electronic industry developed software package, is based on the well-known EyeVision image processing software. With the graphic command icons of the user interface of the EyeSens CC, the parametrization of the different applications is quite easy.

For the use of the EyeSens CC it is also not necessary to install complicated software on your computer. For the use of the inspection programs you will get an IP address, which can be accessed from every browser. This means, that you only have to type in this IP address into your browser and the EyeSens user interface opens.

Up until now there are several pre-programmed inspection programs, which you can choose from. There are commands such as:

Pin 1 Inspection
InTape Inspection
Lead Inspection
2D In Tape Inspection
3D Lead Coplanarity Inspection LCI
Wire Check Inspection
Wafer and Bluetape alignment
Wafer ID Reading
Dambar Inspection
So, you can choose from the icons the appropriate command for your inspection and set the parameters for the electronic component you want to check. And just like that the inspection will run autonomously in the production plant.

EyeSens CC means a "zero-error-production", a reduction of production time, quality and production enhancement and therefore also a better customer satisfaction.