EyeScan VR 3D Sensor
3D-Sensor with EyeVision Software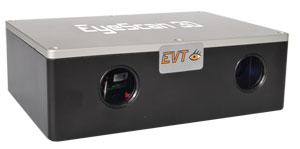 The EyeVision image processing software by EVT now also supports the new 3D-sensor EyeScan VR 3D. The sensor based on digital stripe light projection, that supplies ready-calculated 3D data records for industrial image processing, is also equipped with the complete command set of the EyeVision software and the newly developed 3D-commands.
Stripe projection, image recording and generation of the point cloud are performed in an integrated manner based on an intelligent camera. The projector from Texas Instruments and the camera are synchronized with a frequency of 60 Hz.
The EyeScan VR 3D outputs the recorded 3D data directly as a point cloud or a grayscale-coded range map to the evaluation computer and can be integrated in industrial installations via the Industrial Ethernet interface.
Additionally, with the EyeVision 3D commands applications such as Bin-Picking, 3D-Matching and robot guidance can be realized in no time at all. Also inspection tasks and quality check can be handled easily.
The extended 3D-command set, allows to handle point clouds even more efficient and the user is working with images just as he is used to, but with the complete 3D-informations. Therefore not the distance on a plain but between two points in space is determined.
The programming of the inspection programs is carried out, as most users already know, by drag-an-drop, which means that the user only has to drag the icon for a specific command into the program editor. This intuitive configuration method is always adjustable to individual requirements without disrupting the production flow.
The EyeScan VR 3D features a robust metal housing with IP65 protection, screw-type standard industrial connectors, a 24 V connection, an Ethernet interface as well as hardware and software triggers.